In previous articles, we touched on different building solutions to prevent
radon gas from entering into new buildings. In the case of dealing with a
problem where radon is already present in built constructions, there are two
ways of fighting it, which is either ventilation or insulation.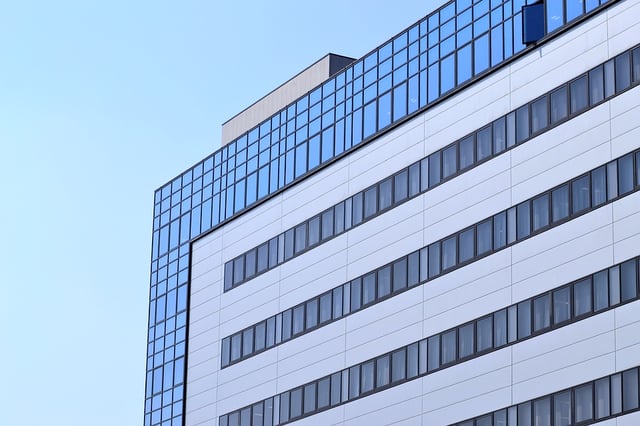 Part of the information herein mentioned belongs to Doctor Borja Frutos
Vázquez's doctoral thesis, which was performed at the Polytechnic University
of Madrid: Experimental study on both the effectiveness and viability of
different structural solutions to reduce the concentration of radon gas in
buildings.
Other data come from researches conducted by Synthesia Technology on the S-35RGB-ECO polyurethane system, a system that works as a barrier against radon.
Building solutions to reduce radon gas inside an existing building
As we mentioned in previously, there are two methods of reducing radon gas inside an already built building; one is by ventilation and the other is by installing a barrier against radon.
Ventilation methods against radon
The corrective measures that can be implemented to protect against radon in an existing building regarding ventilation are the following:
Natural extraction by central and external manholes.
Natural extraction by central manhole.
Natural extraction by external manhole.
Other measures considered as "non-corrective" but related to extraction are:
Forced extraction (56 W) by 1 manhole (central).
Forced extraction (80 W) by 1 manhole (central).
Forced extraction (80 W) by 1 manhole (exterior).
Pressurizing (80 W) by 1 manhole (central).
Forced extraction (80 W) of the air from the basement (we remind you that the basement is one of the main entrances for radon into a building).
These measures reduce the presence of radon inside a building, as it can be observed in the following graph: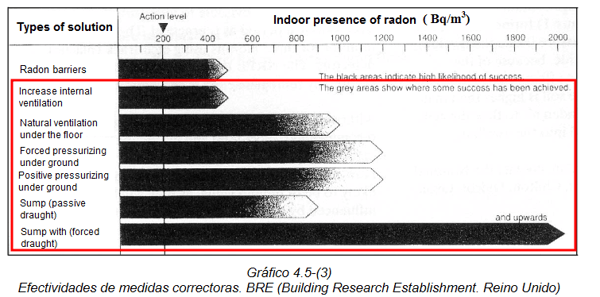 All measures related to ventilation provide optimistic results regarding the reduction of radon gas.
Polyurethane barriers against radon gas
Different studies have proven the effectiveness of polyurethane barriers as a solution against radon gas, which can be an alternative to ventilation. The results obtained are an example of the watertightness provided by this material.
Initially, this graph shows the presence of radon gas measuring 39,385 Bq/m3 in the basement and 6,855 Bq/m3 on the first floor (number 00 of the graph). After applying a polyurethane anti-radon barrier with density 1,000 kg/m3 (number 10 of the graph), we can see a reduction to 1,446 Bq/m3 and 434 Bq/m3 respectively.
(And let's not forget that, unlike air extractions or ventilations, polyurethane also offers thermal insulation function).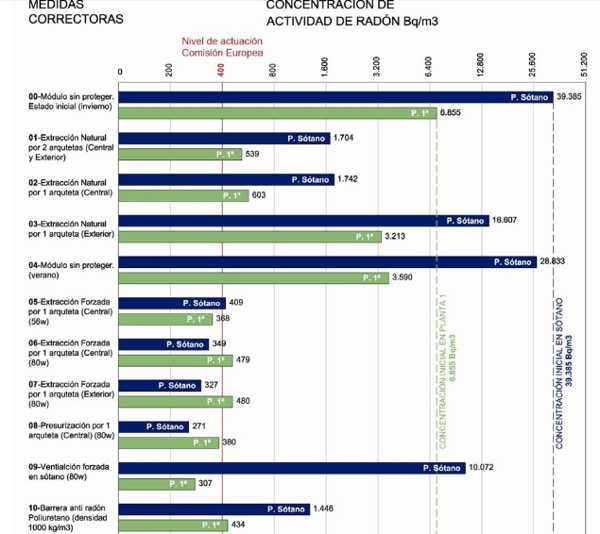 Polyurethane barrier against radon gas: the case of S-35RGB-ECO system
Following tests conducted by Synthesia, it is concluded that the S-35RGB-ECO polyurethane system has an excellent behaviour as a barrier against radon gas; it offers these advantages:
It is ecologically formulated (not HFC), with an ultra-low GWP and it's non ozone-depleting.
It has a thermal conductivity coefficient of 0.020W/mK - 0.027W/mK.
It has a classification of reaction to fire Euroclass E.
Synthesia Technology: anti-radon barriers
We have developed a polyurethane system with anti-radon barrier function. Would you like to learn more?