Sandwich panels are a modular building material designed to cover buildings and structures. These panels consist of two layers that form the outer structure and ensure form, weather resistance and rigidity. They contain a core that provides thermal and acoustic insulation properties.

Characteristics of polyurethane sandwich panels
One of the most important features of polyurethane sandwich panels is their excellent insulation. The core of the plates gives it low thermal conductivity, that is, better insulation. For this reason, it is often used in the renovation of buildings, both on roofs and facades, and in the construction of industrial buildings.
Sandwich panels are manufactured and installed very quickly. For assembly, they are screwed to the structure and, depending on the finish, it can be with visible or concealed screws. This makes the construction time one of the shortest compared to other systems.
One of the most important advantages of sandwich panels as a construction element is the variety of shapes and finishes available on the market. There are all types of panels depending on the building for which it is designed. The finishes vary between rustic and modern, and we can find imitation wood or imitation tile panels among others.
How big is a sandwich panel?
The width of the insulation board is usually 1,000 mm and, in some models, it is 1,150 mm wide. The length of the sandwich panel can be adjusted according to the needs of each project, the most common dimensions being between 3 and 6 metres, but, in some cases, a maximum length of up to 16 metres can be reached. The thicknesses of these panels can vary enormously depending on the final application, the most common values being between 40 and 150-200 mm thick depending on the application.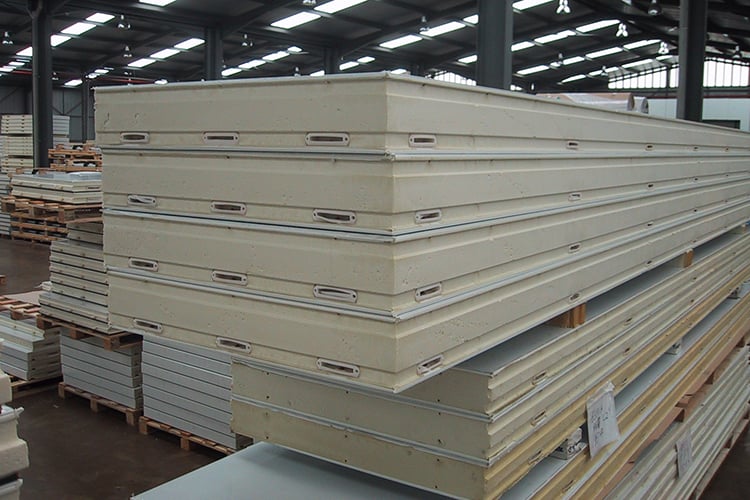 What are sandwich panels used for and what types are there?
These insulating elements are particularly useful above all in roofs and facades of industrial buildings that process at low temperatures. Due to their lightness, they are ideal for renovating enclosures. They are also effective in the insulation of cold rooms and warehouses, in sports centres and shopping centres and in homes, both new and renovated.
Sandwich panels for facades
Sandwich panels for facades have been improved for the construction of enclosures in homes, schools, hospitals, industrial centres or shopping centres. Sandwich panels can also be found for interior partitions that require insulation.
The advantages offered by these façade panels depend to a large extent on the method of joining between panels. The fastening system is implemented in a tongue-and-groove manner, ensuring adequate protection, preventing the dissipation of heat and humidity.
Sandwich panels for roofing
The characteristics of sandwich panels for roofs differ from façade panels in that they will have to withstand large amounts of snow, rain and other climatic factors.
They are fixed to the structure with self-drilling screws, to prevent leakage in case of rain and humidity, and are often combined with sealing joints, which speeds up installation without sacrificing the insulation layer.
Refrigerated panels
Sandwich panels can also be used in cold rooms or freezers where insulation is required. For these cases, the sandwich panel is designed with a thickness greater than normal to be able to withstand negative temperatures.
To maintain these extreme temperatures necessary for the preservation of fresh food products, special attention must be paid to the joints between the sandwich panels.
PUR Panels and PIR Panels
Sandwich panels offer excellent insulation with the smallest thickness. Their excellent insulating capacity and mechanical properties make them the perfect ally for industrial construction. There are two types of polyurethane panels on the market, PUR (polyurethane foam) & PIR (polyisocyanurate foam), both offering excellent thermal insulation, the latter being the one with the best fire performance.
Synthesia Technology has been offering polyester polyols and systems based on recycled PET for the manufacture of sandwich core insulation panels with PIR technology since 2003. All this means that Synthesia Technology, with its extensive experience in this field, is committed to recyclable, sustainable and ecological materials, creating a circular economy for the future.