Traffic paint is used for road markings on roads, but also for garage entrances, car parking lots and industrial buildings. It is designed to adhere to asphalt, concrete and cement and to withstand demanding weather conditions and wear and tear.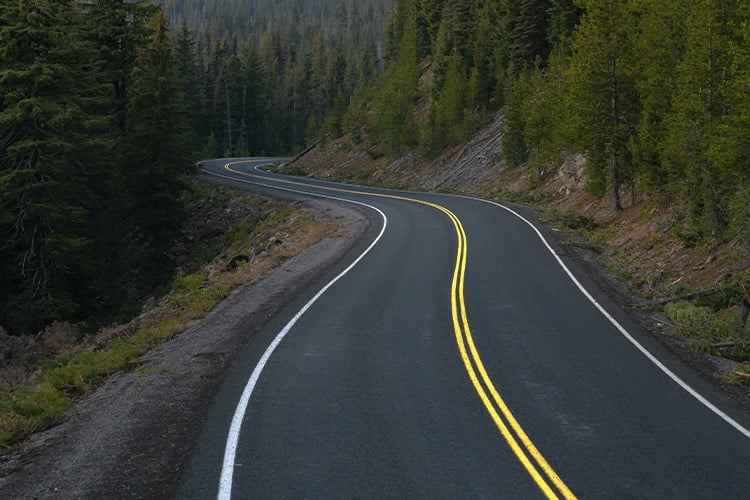 What kind of acrylic resins are used?
Acrylic resins used to produce road marking paints or traffic paints offer high abrasion and weather resistance, durability, hardness, and elasticity. They also stand out for their fast solvent release, which results in short drying times.
Two types of resins can be used depending on the desired performance and the type of machinery used. Thus, thermoplastic acrylic resins can be used by spray and air drying. Or peroxide crosslinkable resins, based on condensation polymers diluted in acrylic monomers. The latter, known as cold plastics, are the most representative. These resins may also contain a special accelerator in one of the two components used when applied in 2K systems.
What types of materials are used for road markings?
In order to choose the most suitable product, it is necessary to define the work area, the execution time, the ambient temperature, the type of pavement and its temperature, the time that the section will remain closed after the work, the type of road and the width of the carriageway, etc.
Thus, for traffic signage we can use cold plastics acrylic paints of various types: unsaturated polyester-based or methylmethacrylate polymer-based, both with the appropriate dilution with different acrylic monomers, etc. The flexibility of the paint can also be modified by modifying the unsaturated polyester.
In some cases, solvent-based thermoplastic acrylics (quick-drying, very versatile and durable) or water-based (for cold climates) can also be used.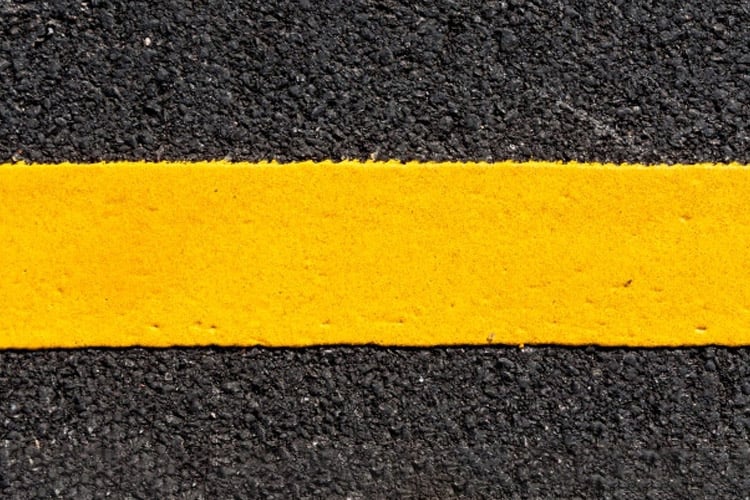 Advantages of acrylic resins
They offer high adherence on asphalt, concrete or cement. Another major advantage of acrylic resins for road marking paints is that they withstand the elements very well, including extreme temperatures and the action of sunlight, as well as the frequent passage of vehicles and the spillage of gasoline or other similar products.
They are also resistant to scratches and bumps, which is why they are indispensable in car parking lots, garage entrances and areas of heavy traffic. In short, they have a great durability, and dry very quickly regardless of the outside temperature - it can be somewhat slower in cold weather. This means that traffic can be resumed within a few hours after the surface has been painted.
How to prepare the ground and/or apply road marking paints on roads
When the floor is in good condition or is new, cleaning is sufficient as a preliminary step to painting. This means removing dust, stones, grease, or petrol stains. Once the floor is clean and dry, the paint can be applied.
If the floor is very dirty or deteriorated, or has traces of previous paintwork, it is advisable to sand and scrape to remove as much dirt as possible and to leave the surface as smooth as possible. After scrubbing and drying, it is time for application, either with spray, brush, or roller.
The application can be done by automatic spray machines or manually.
In the case of manual application (brush, spray gun or roller), it is a good idea to mark the lines and edges with masking tape in order to paint straight. After mixing (with water or solvent), a first coat of the marking paint will be applied. Once dry, apply the second coat, but this time with undiluted paint.
European regulations
Road marking paints must comply with the requirements set out in the Declaration of Performance in the form and content provided for in Regulation (EU) 305/2011 of the European Parliament and of the Council of 9 March 2011.
Synthacril specialties for road signage are solutions designed for the production of road marking paints that meet all requirements.