The farm panel, livestock sandwich panel or agropanel is designed to withstand aggressive environmental conditions. The gases and corrosive environment of these environments would quickly deteriorate the outer metallic layer of conventional sandwich panels. The farm panel has increased protection, thus ensuring thermal insulation, airtightness and durability.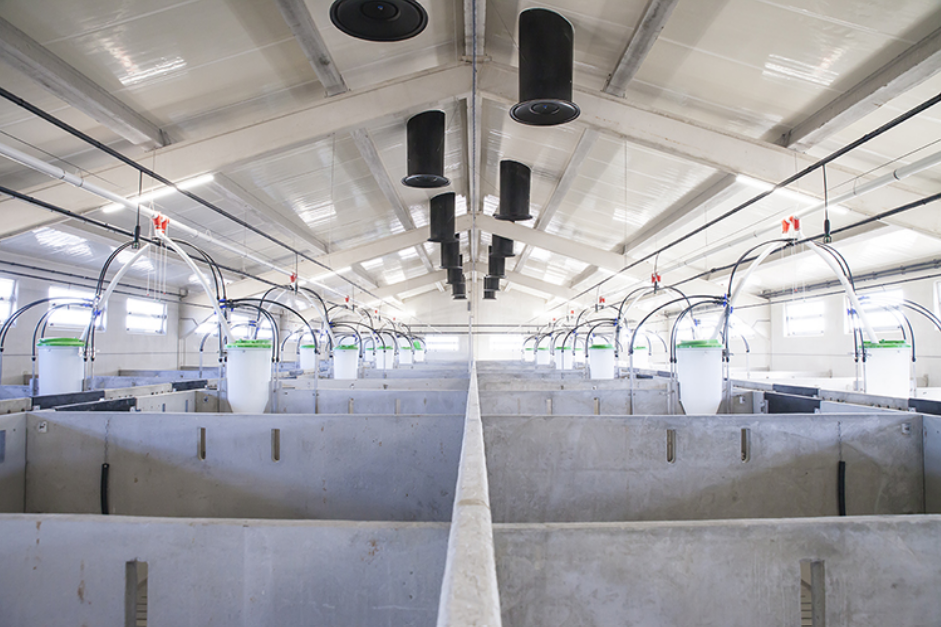 Characteristics of the sandwich panel for livestock
The farm panel is used in the insulation of intensive animal farms, including fish farms, but also in the chemical industry or in indoor swimming pools. It is easy to maintain and clean, because its smooth surface only requires pressurized water and detergent to comply with sanitary regulations.
The main difference between the livestock sandwich panel and the conventional sandwich panel is that the former usually has a polyester sheet reinforced with fiberglass. The thickness of the panel will depend on the type of animals on the farm. Thus, for cows or pigs, 30 mm is recommended, for chickens or rabbits between 40 and 50 mm, and for fish farms and indoor swimming pools, 50 mm.
Likewise, when choosing the most suitable livestock sandwich panel for each case, it is necessary to consider whether it is going to have contact with the outside. If this is the case, the best option is to use flashing type panels or panels with three and five ribs with a polyester reinforced interior. The farm panel can also be used as a false ceiling to cover a roof.
The advantages of sandwich panels for livestock
The installation of this type of panels on farms and livestock farms facilitates energy savings by reducing thermal losses. It also improves the thermal comfort of the animals and avoids condensation and, therefore, the appearance of damp.
In broiler, turkey and rearing farms, a temperature above 20ºC is required in the early stages of rearing. The heat is provided by heating, also to compensate for the heat loss through the enclosures. For this reason, good insulation of the farm facility will result in lower heating costs.
In addition, poorly insulated facilities tend to have poorer environmental quality, as the mistake is often made of reducing ventilation in order not to cool the interior further. This leads to higher humidity and a consequent increase in ammonia release. The direct consequence is an increase in animal diseases and reduced performance.
Poor insulation is also related to increased feed consumption, as poultry tend to eat more to compensate for their need for body heat.
In addition, the livestock sandwich panel does not emit any toxic substances and therefore does not compromise the quality of the products.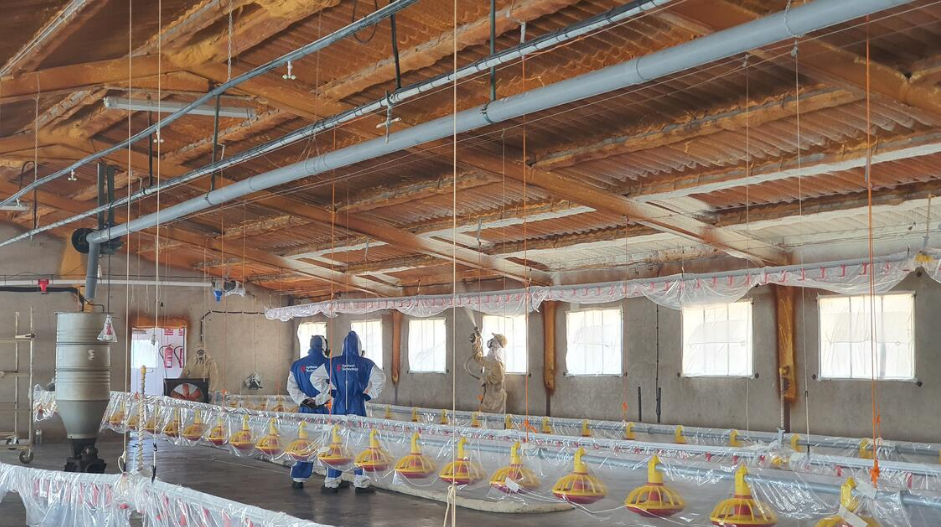 Polyurethane spray on poultry farms
Sprayed polyurethane foam is also an option for improving the insulation of poultry farms, in particular enclosures. Its application provides a continuous insulation without thermal bridges, with a minimum thickness, excellent durability and quick execution. The projected density is usually between 35 and 48 Kg/m3.
In short, adequate insulation is a determining factor in reducing costs and improving farm production.