Thermal-Acoustic Insulation of single-family houses with Synthesia Technology's Poliuretan Spray S-303 HFO system, a spray-applied system developed using Hydrofluoro-Olefins (HFO), a 4th generation foaming agent, which leads to a very low global warming potential index and a reduction of CO2 emissions. In addition, the Poliuretan Spray S-303 HFO system is manufactured using recycled PET and products of renewable origin.
Description of the projects
Our customer, Aislamientos Leovigildo Roca SLU, has been carrying out polyurethane insulation and waterproofing for more than thirty years in the construction sector in the Levante and Balearic Islands area. In this case, the company was contracted to insulate two single-family houses in the area of Cambrils (Tarragona).
The Synthesia Technology Poliuretan Spray S-303 HFO was chosen as the thermal acoustic protection and insulation system for both buildings.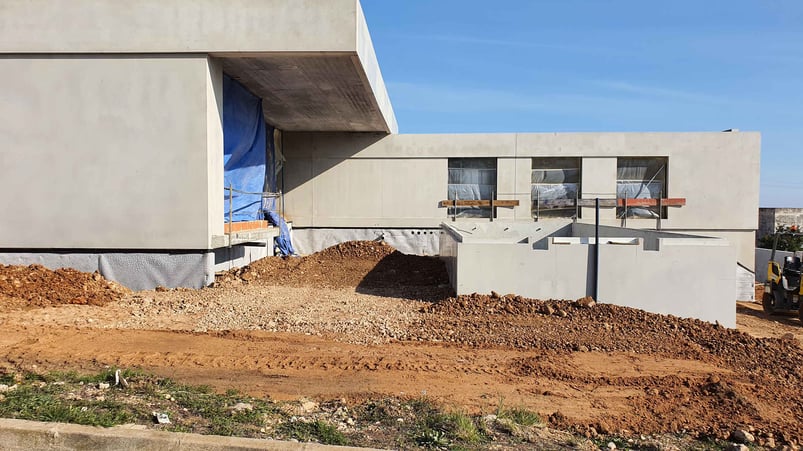 Product description
Poliuretan Spray S-303 HFO is a two-component polyurethane system, polyol and isocyanate, applied by in situ spraying to obtain rigid closed-cell foams for thermal insulation.
The Poliuretan Spray S-303 HFO system has been developed using Hydrofluoro-Olefins (HFO), a 4th generation blowing agent, which leads to a very low global warming potential rate and a reduction of CO2 emissions.
At Synthesia Technology we are using recycled PET from plastic bottles in the production of polyols, a key raw material used in the manufacturing of high performance insulation. We are demonstrating that it is possible to use plastic waste responsibly, upcycling it into brand-new products that help to reduce energy consumption and CO2 emissions, for the benefit of all. In this way, we promote the development of a circular and sustainable economy. Specifically, the Poliuretan Spray S-303 HFO is manufactured with:
23% of Recycled PET
17% of Products of renewable origin
Equivalent to 54 PET bottles* per m2 for applied foam**
* Considering a weight of 8,6 g per PET bottle
** Considering a thickness of 10 cm and an applied density of 40 kg/m3
Poliuretan Spray S-303 HFO is a CE marked product (CPR-2016-303HFO-4) and holds several voluntary quality certifications such as the N Mark (020/003892 & 020/003894), Keymark (020/003902 & 020/003903), BBA (22/6098) and NSAI (19/0414).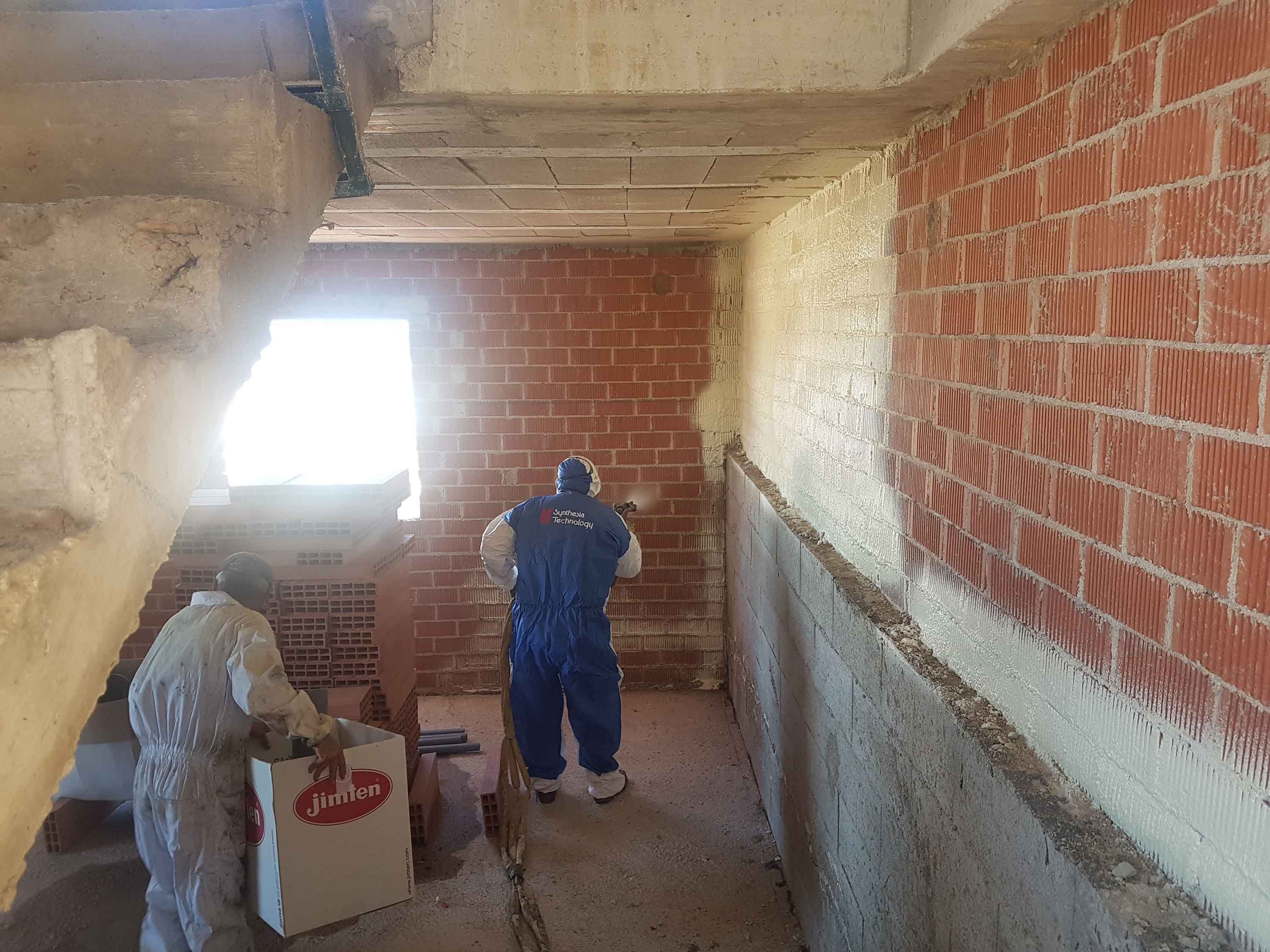 Application Poliuretan Spray S-303 HFO
The Poliuretan Spray S-303 HFO system has an insulating function and is applied by spraying with high-pressure equipment with heating and a mixing ratio of 1:1 by volume. Its main applications are the thermal insulation of façades and, on the inside of dwellings, partitions and ceilings. Once sprayed, its density ranges between 35 and 45 g/l.
The thickness of the layer is perfectly controlled and can be modified by varying the application speed and/or the mixing chamber of the spray gun; this thickness should be between 10 and 20 mm.
It should be noted that the lower the number of layers for the same thickness, the higher the performance of the foam. However, it is not advisable to apply thicknesses exceeding 20 mm in order to prevent the formation of pockets, problems due to exothermicity of the reaction and to maintain the properties of the foam.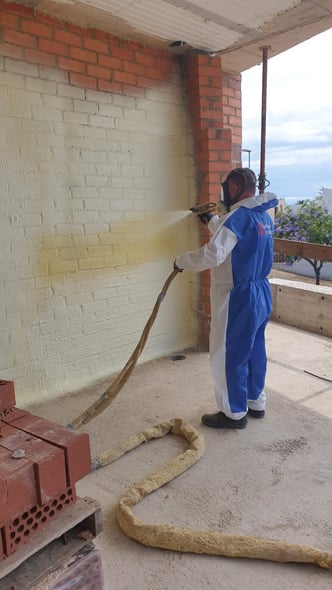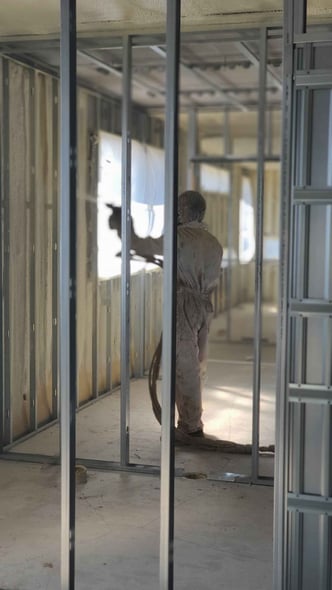 Application advantages:
Complete suppression of thermal bridges. The insulation has no joints or cracks, as it is a continuous insulation.
Good adhesion to the substrate. No glues or adhesives need to be used for installation.
Possibility of insulating and waterproofing in a single process. This characteristic is

due, on the one hand, to its closed-cell, watertight structure and, on the other

hand, to the fact that is applied continuously, which means that joints can be avoided.
Mobility. Possibility of moving quickly to any building site without the need to transport or store bulky products, such as other insulating materials.
Sealing of gaps, dampening the passage of sound.

Increased habitable surface area

compared to other insulating materials.
Application Conditions
To start applying the product Poliuretan Spray S-303 HFO, the surfaces must be clean, dry, and free of dust and grease to ensure a good adhesion of the foam to the substrate. In addition, if the substrate is metallic, it must be free of rust and oxidation. To ensure good adhesion on metallic substrates, the use of a suitable primer is recommended, as well as the application of a minimum density of 38 kg/m³.
The performance of the foam is influenced by a number factors, such as:
Atmospheric conditions: ambient and substrate surface temperature and humidity, as well as other environmental factors (wind, etc.).
Adjustment of the equipment, appropriate ratio.
Type of application: vertical, horizontal, ceilings.
Application method: thickness of coats, application of varnish.
Applicators must wear full personal protective equipment when working with the product. In addition, supplementary ventilation may be required to prevent the accumulation of gases during the application process as they may spread to other occupied areas of the building. A 24-hour waiting period is recommended before re-occupancy in buildings that are already occupied.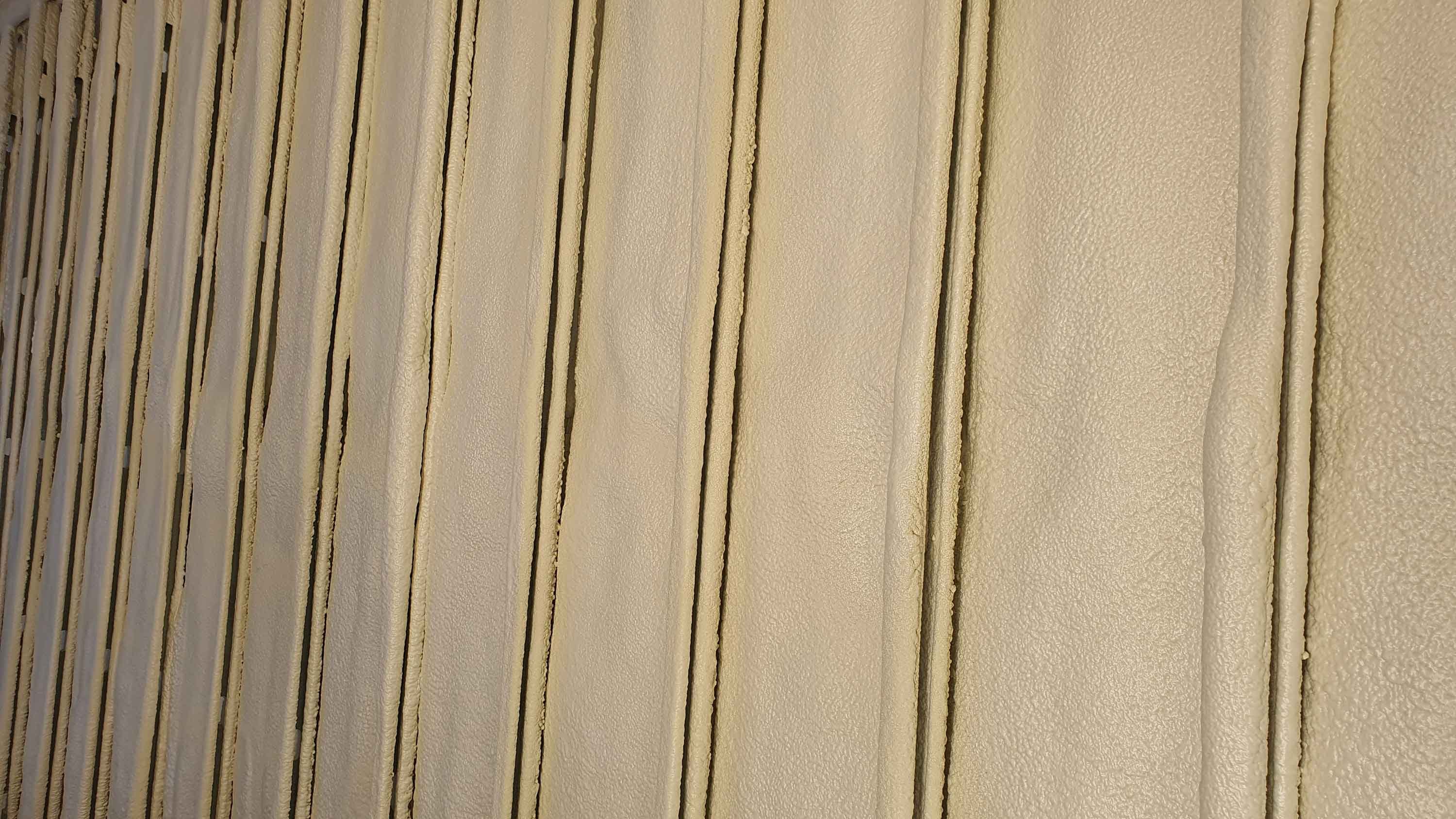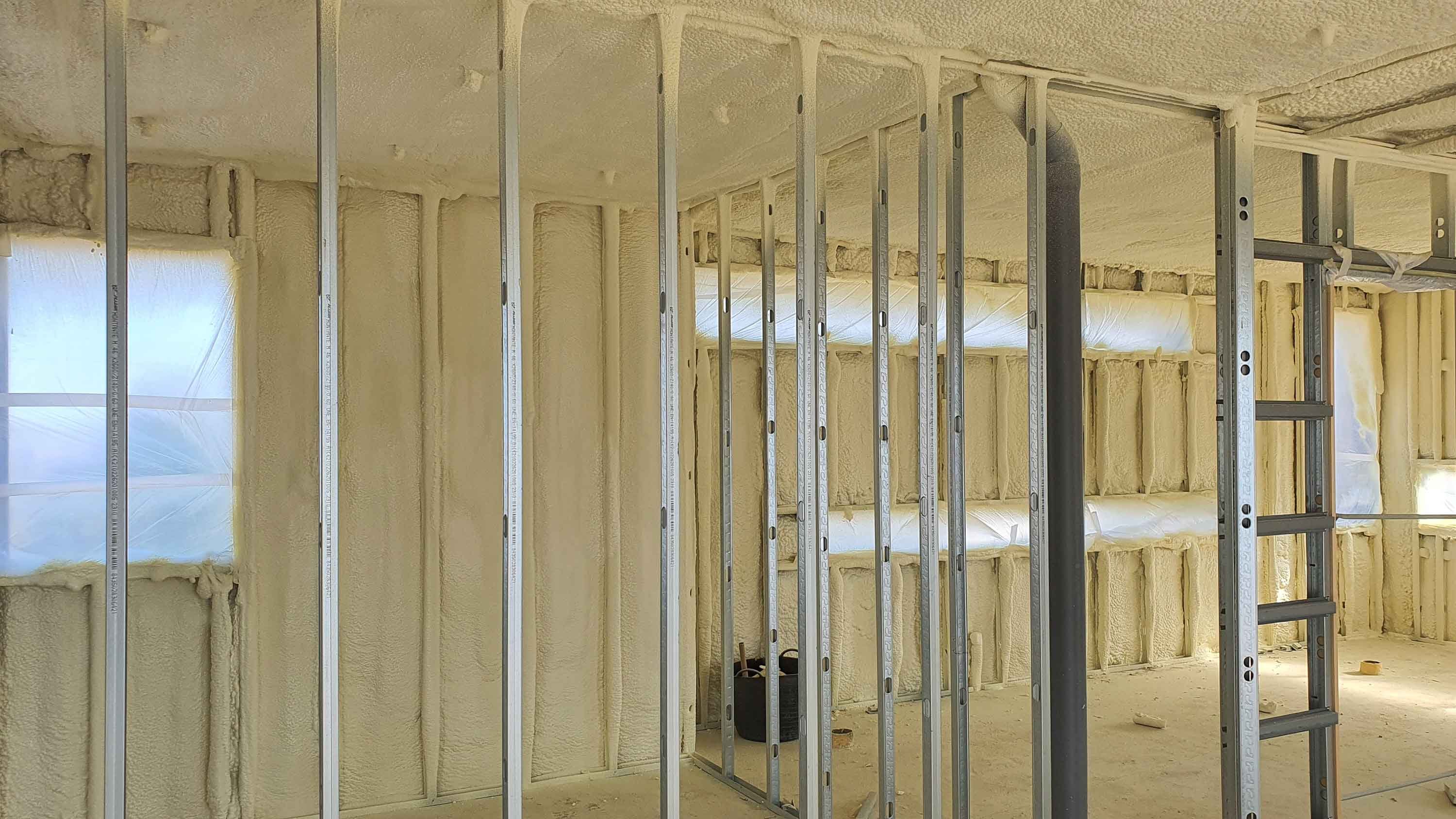 Final result
The application by spraying allows to cover areas with an irregular surface or with a complicated geometry, forming a uniform film in the desired colour and protecting the entire structure against leaks and humidity, thus extending the life of the structure.
In these cases in particular, our product Poliuretan Spray S-303 HFO was applied both in internal partition walls and in the ceilings of the houses to achieve optimum thermal and acoustic insulation.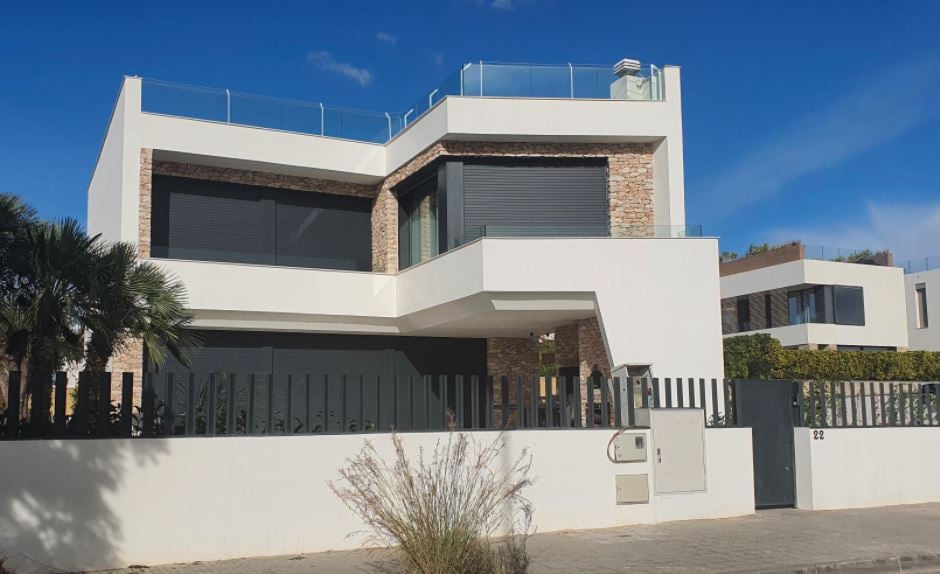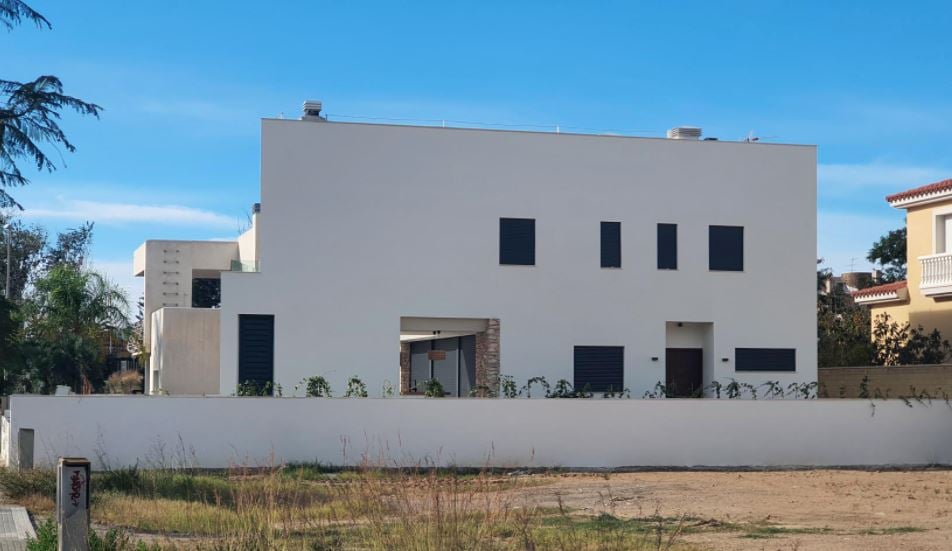 For other construction solutions, contact our technical commercial department and the appropriate solution will be adapted to each type of work.