These Synthesia Technology products are two-component rigid polyurethane foam systems (polyol and isocyanate). They have been formulated to obtain rigid closed cell foams, so the result is a waterproof and breathable material. They are products with HFO technology, 4th generation of foaming agents, which leads to a very low global warming and does not affect the ozone layer.
They are applied by spraying in situ to achieve effective thermal insulation, with a mixture ratio of 1:1 by volume. For this, high pressure equipment is used, with separated pumps to avoid the decompensation of the mixture, which would generate a poor-quality foam.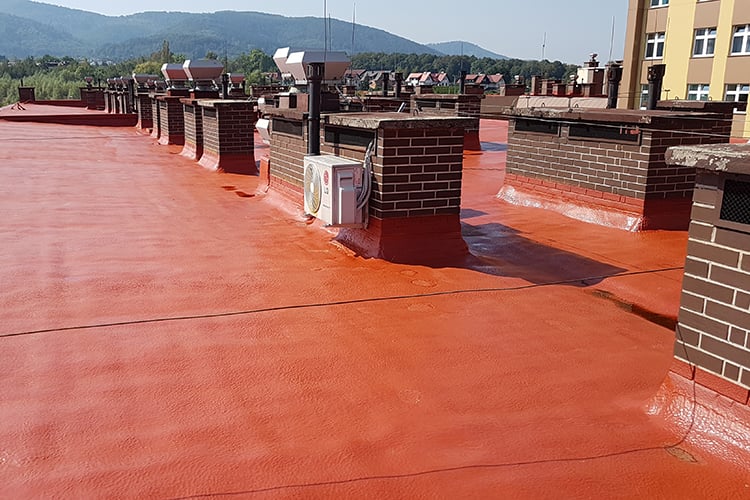 Characteristics and properties
S-403 HFO, S-503 HFO and 7129 Roof HFO polyurethane products eliminate thermal bridges, providing continuous seamless insulation. The adhesion to the substrate is very good, therefore no adhesive needs to be added. They are specially designed to give a smooth finish.
These sprays also offer the possibility of waterproofing and insulating in the same process, given their closed cell structure and continuous application. Its sealing capacity also makes it an excellent acoustic insulator.
They also have a very low thermal conductivity:
| | | | | |
| --- | --- | --- | --- | --- |
| CHARACTERISTICS | UNIT | S-403 HFO | S-503 HFO | 7129 Roof HFO |
| Closed Cells | % | >90 | >90 | >90 |
| Coef. Thermal Conductivity (25<e<75 mm) | W/mK | 0,028 | 0,028 | 0,028 |
In the case of S-403 HFO and S-503 HFO, the conductivity varies from 0.028 to 0.025 W/mK depending on the thickness of the foam and in the case of 7129 Roof HFO, the conductivity varies from 0.028 to 0.026 W/mK.
Synthesia Technology's three products also make it possible to increase the living space, which is not the case with other insulation materials. They also have good fire performance and are the only material on the market that can certify their properties before and after installation.
Main Uses
The Polyurethane Spray System S-403 HFO is mainly applied as thermal insulation in the enclosure of buildings, partition walls of houses, industrial warehouses, ships, tanks, cold rooms, etc... The three sprays are used as thermal insulation in roofs, floors and terraces. Additionally, the smooth finish of the 7129 Roof HFO is especially suitable for the application of light coatings (paints, elastomers, polyureas).
It should be noted that the performance of these Synthesia Technology products will be influenced by several factors. These include atmospheric conditions (ambient and substrate temperature and humidity, wind, etc.), the proper setting of machinery, application vertically, horizontally or on roofs, and the form of application (in layers, varnish). The lower the number of coats applied to obtain the same thickness, the higher the foam performance.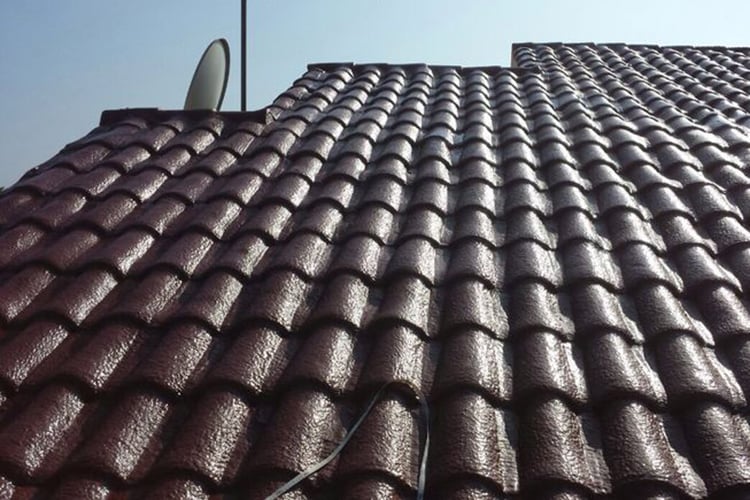 Tests
According to the results of the reaction to fire tests for EN 13501-1 (thickness 60 mm) the systems Polyuretan Spray S-403 HFO, S-503 HFO and 7129 Roof HFO belong to the Euroclass E. In other words, "they are capable of resisting, for a short period of time, the attack of a small flame without producing its substantial propagation".
Polyurethane Spray S-403 HFO has a reaction to fire classification B2 according to DIN 4102.
Synthesia Technology Polyuretan Spray S-403 HFO, S-503 HFO and 7129 Roof HFO are very good options for effective thermal and acoustic insulation due to their fast and easy application and excellent performance.