Polyurethane elastomer is formed by casting, by reaction of its components. This results in a material with excellent mechanical properties and high chemical resistance, which is very suitable for the manufacture of printing rollers.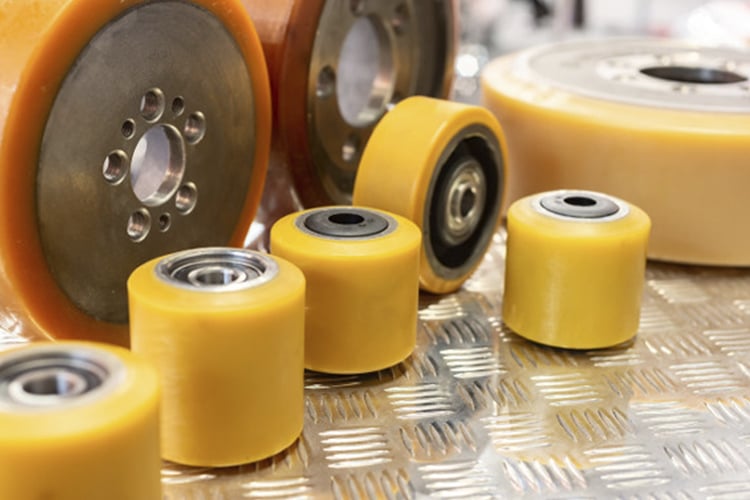 What is a polyurethane elastomer and what is it used for?
An elastomer is a material with high elasticity, which can deform greatly under load and completely regain its shape when the load disappears. Polyurethane elastomer has excellent elasticity due to its molecular structure and is far superior to other elastomers in load capacity and also has an elongation at break up to three times higher than elastomers made of other materials.
It is used for the manufacture of conveyor belts and for the complete production of polyurethane rollers, shafts and other components required for printing, gravure, and offset applications. The result is rollers that are easier to clean than those made of other materials, reducing set-up time.
This type of polyurethane is also used as a coating in the steel industry on belt rollers, conductors, varnishers, etc., as well as on acid tanks and reservoirs, cutting rings, suction cups, etc. It can also be found in the paper and cardboard industry and in construction, mechanical engineering, and transport in the form of wheels, cylinders, discs, anti-vibration mounts, gears, bushings, etc. Polyurethane elastomers are also used in the automotive industry and in civil engineering.
What other materials are used for printing rollers?
Printing roller coverings can be made of materials such as rubber, gelatine, leather, natural rubber, silicone rubber, neoprene, nitrile rubber, synthetic rubbers such as Hypalon or ethylene propylene diene rubber (EPDM).
Advantages of polyurethane elastomer for printing rollers
The advantages of polyurethane for printing rollers over other elastomers are its high elasticity in all hardnesses, its flexibility at all temperatures, its resistance to abrasion, traction, cutting and impact, as well as to contact with oils and greases. In addition, it has a high load capacity, is stable under all weather conditions, and is resistant to oxidation and ozone. It withstands temperatures of up to 100°C, dampens noise and vibrations in a remarkable way and, depending on its formulation, is resistant to ageing and humidity.

On the other hand, print rollers made of polyurethane elastomer transfer ink, water, varnish, or solvent bases optimally. They have a long useful life, do not crack and have very low porosity, resulting in excellent quality finishes.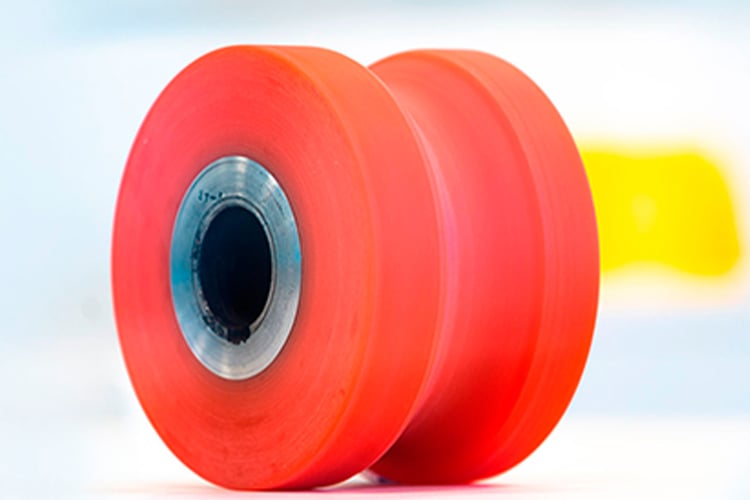 Synthesia polyurethane elastomer systems for printing rollers
Synthesia solutions for print rollers are perfect for applications with demanding technical requirements. Synthecast PS-1093 stands out for its high hardness and resistance to abrasion, temperature and oil or solvents and for its high elongation capacity. Synthecast PT-1190 is noted for its good hydrolytic stability and mechanical properties, as well as its resistance to abrasion. Synthecast PT-1195 improves the hardness of the previous one and has the same properties.