Discontinuity in the application of polyurethane can seriously result in heating and cooling energy losses. That is why, during the processes of application of this insulating material, it is necessary to respect the order of execution. Otherwise, we could generate several inconveniences that could have terrible results in the insulating and waterproof characteristics of this material.
As a general rule, the continuity of the polyurethane foam spray must not be broken once it has been sprayed, since, in addition to losing insulation propertires, the waterproofing effect of the system can be broken and future leaks may appear, so all operations that need access to the main sheet must be carried out beforehand.
The enclosure of a building must be adequately insulated to ensure the lowest possible losses, thus reducing energy consumption. Sprayed polyurethane foam provides an optimal behavior against bad weather conditions.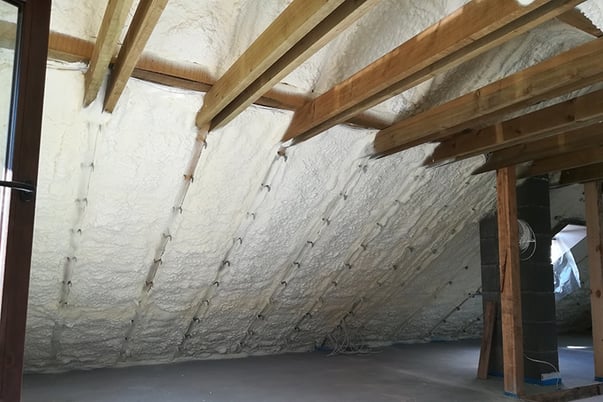 Prevention of cracking due to expansion joints
If the polyurethane foam is directly applied to expansion joints, cracks may be caused by the movement of the substrate due to expansion or contraction. This effect is especially important in decks or terraces where cracking can break the waterproofing. It is easily avoidable if proper precautions are taken at the time of application by treating the joint properly.
Although it is true that polyurethane foam admits some permanent deformation, the stresses generated by the effects of expansion-contraction on very wide joints, from 2 to 4 cm, cannot be absorbed by the foam. The way in which these stresses are absorbed is to distribute them, minimizing their effects, by installing an elastic separating membrane, for example synthetic rubber with a width of 30 cm, and applying polyurethane on top of it.
If this band has not been placed and the problem has already appeared, the solution would be to adze the foam in a width greater than the band, approximately 50 cm, place the membrane in the center and spray the foam over it. This would also apply to large cracks that act as unexpected expansion joints.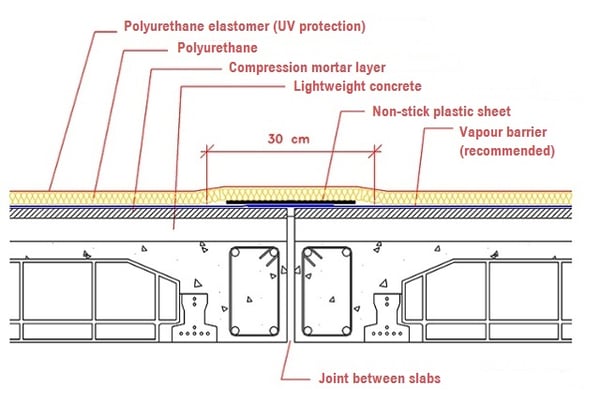 Control of the site manager during execution
If you wish to control the installation of polyurethane in order to avoid the inconveniences that may arise in case of discontinuity in the application, it is advisable for the site manager to control the following aspects:
In the spraying of facades, clean the base of the floor slab, to ensure good adhesion of the foam at that point.
Ensure that the application is carried out in successive coatings of the maximum thickness specified by the system manufacturer.
All those elements susceptible of staining must be adequately sprayed.
Control the proper treatment of thermal bridges.
When necessary, the existence of a vapour barrier should be controlled.