The use of polyurethane in the manufacture of industrial wheels has many advantages: mechanical and chemical resistance, durability, high load capacity, shock absorption and ergonomics. It adapts to all kinds of needs and very demanding applications, improving the performance of most materials for this purpose.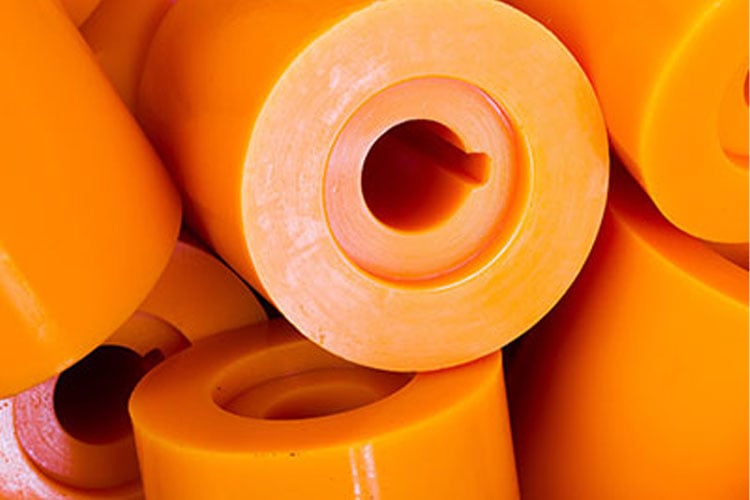 What is polyurethane elastomer and what is it used for?
An elastomer is a highly elastic material, which can deform greatly under load but recovers its shape completely when the load disappears. In the case of polyurethane elastomers, we are dealing with a material with excellent elasticity, with an elongation at break up to three times greater than rubber elastomers, for example, and far superior to other materials in terms of load capacity.
For these and other reasons, wheels and castors made of polyurethane elastomers are essential in logistics, transport equipment, stacker cranes, as well as in extraction, construction, and mechanical systems.
Other materials used for industrial wheels and castors
Wheels and castors made of different materials are available on the market for machines, forklifts, etc. for all sectors and areas of use. What is important is that they serve to achieve maximum efficiency and safety for the operator.
For this, the choice of material depends on several variables: the type of flooring, the presence or absence of chemical products, oils and environmental humidity and exposure to extreme temperatures are factors to be taken into account. The total weight of the load, whether it is solid or liquid, as well as the type of movement to be carried out (manual or mechanical), the speed to be achieved or the need to absorb vibrations must also be considered.
In this way, industrial wheels and castors come in different sizes, load capacities, treads, and bearings. Among the materials used for industrial wheels and castors are normal rubber, thermoplastic rubber, and elastic rubber. In addition, polyamides, thermoplastic polyurethane, phenolic resins, silicone emulsion, cast iron and steel are used.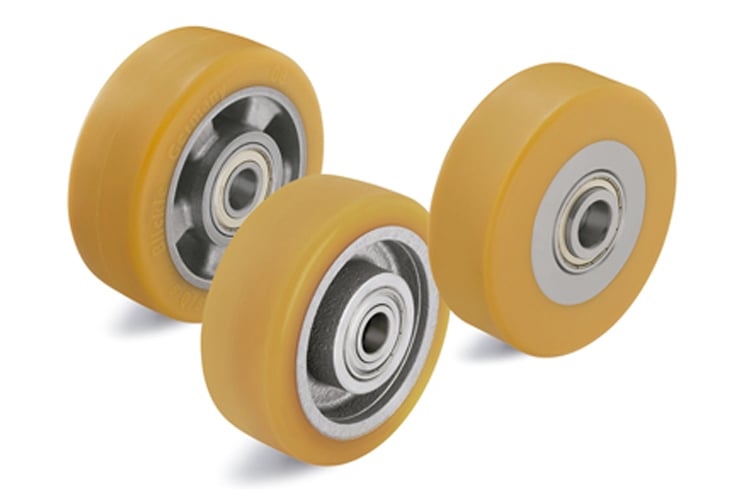 Benefits of polyurethane elastomer for wheels and castors
High-quality wheels and castors are essential for the efficient operation of transport trolleys and load carriers, as well as for ease of use and driving comfort. In this respect, polyurethane elastomer for industrial wheels and castors offers many advantages. It does not scratch or damage the floor, is quiet and oil resistant.
Thus, polyurethane elastomer is used to produce wheels of all types, which are softer or harder depending on the conditions of use. With this material, load wheels, swivel, compact, driving, fixed, guides, for forklifts, lifting, with shock absorbing castors, etc. are manufactured. Depending on their composition, they also offer higher dynamic and mechanical load capacity, abrasion and wear resistance and antistatic versions.
Likewise, polyurethane elastomer wheels and castors are easy to control and steer, non-slip, maintain a constant load balance, support a large amount of weight and, when the load is moved manually, do not overexert the worker physically.
Synthesia's industrial wheel and castor solutions are suitable for all kinds of needs and demanding applications. They are products with high durability and load capacity, strength and shock absorbing capacity.