Synthesia Technology conducted successfully the first demonstration with a new sprayed polyurethane foam system, with Honeywell's support. This product is a closed-cell sprayed polyurethane foam with a high thermal performance which was tested in a warehouse roof in Norway. The results exceeded expectations and the new system received high ratings from everyone involved.

New regulatory requirements: sprayed polyurethane foams more ECO
Synthesia Technology is committed to environmental responsibility and it wants to be at the forefront of new technologies, giving maximum benefits to their polyurethane systems. The F-Gas Regulation is calling for a ban of hydrofluorocarbon (HFC) blowing agents by 2023.
Synthesia is developing this new system of sprayed foam well in advance, not only to satisfy the new regulatory requirements, but also to achieve a higher performance of the resulting foam: a "super insulation ECO".
The usage of this new system can offer tax advantages in Norway and other Nordic countries, making their costs decrease. Furthermore, sprayed polyurethane foam is an excellent option to ensure a continuous and optimal insulation in colder regions of Europe because it prevents cold air from entering the building.
Norway legislation calls for taxation on high GWP blowing agents. Because Solstice is HFO-based with an ultra-low GWP, it is not affected by this legislation thus allowing us to be cost competitive in the market.
Advantages of the new sprayed polyurethane foam
The S-35 RGB/ECO product used in this case in the Nordic countries is characterized by the following features:
With this sprayed polyurethane foam thermal insulation system, the insulation value obtained is equal to or better than existing solutions.
The S-35 RGB/ECO has an ultra-low global warming potential (99.9% lower than the HFC blowing agents it replaces and equal to carbon dioxide) and it's non-ozone depleting.
Non-flammable (ASTM E-681).
It has excellent performance during application.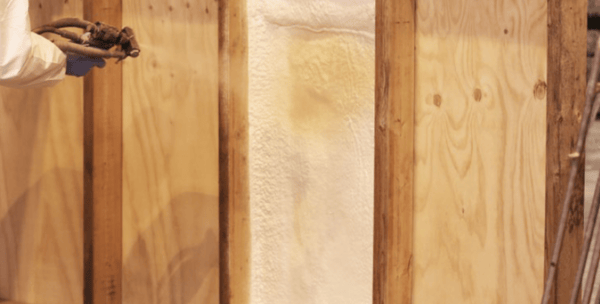 Application in Norway: case of success
Synthesia's new ccSPF system, the S-35RGB/ECO, was applied (approx. 10 cm in thickness) to a portion of the underside of a warehouse roof in Norway. Product parameters, such as thermal performance, adhesion, foam rise and consistency were evaluated.
In Honeywell's video you can learn further details about this test.
This type of interior ceiling application is common in Norway and other European countries and provided an opportunity to evaluate how the closed-cell sprayed polyurethane foam system would perform. The system received high ratings from everyone involved and sparked passion for the next stage of product development.
Synthesia has been involved in the polyurethane business for over 50 years, thus this was a very important test for us today and it has been very, very positive. The new product is adhering well to the roof and the foam finish is optimal. The results are very good.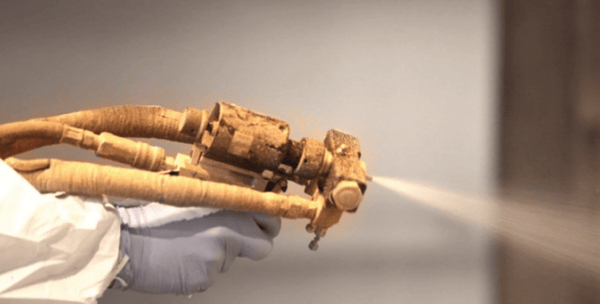 The applicators who sprayed the new system during the test were very impressed. Jaume García, application technician of Synthesia, said:
The foam behaved very well during this demonstration and met the correct formulation parameters. I really liked the rise on the foam. Overall, we are very happy with the results.
The test was completed without any clogging of the gun or problems with the application. This new product
represents an excellent opportunity for a new generation of more efficient SPF which help reduce global warming.
Would you like to know more? Do not hesitate to download the video to learn all the details about this test with the S-35RGB/ECO closed-cell polyurethane product.