URELAST 900 is a one component, liquid applied polyurethane waterproofing membrane, fully adherent to the surface and highly elastic for application and cold drying.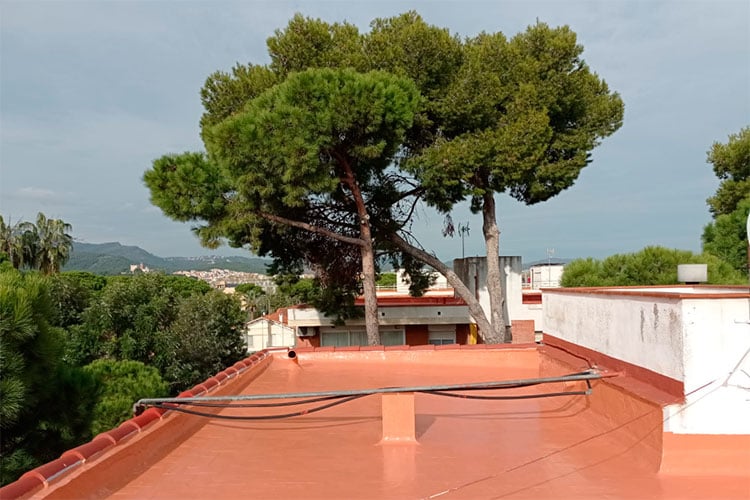 Properties
URELAST 900 is easy to apply (roller or airless), has resistance to frost and allows water vapor to breathe. Once applied, it becomes a seamless waterproof membrane and maintains its mechanical properties between -30ºC to 90ºC. Repairs cracks up to 2 mm, even at -10ºC. Quick and easy to repair, low price and passable.
Applications
The main applications of URELAST 900 are fundamentally the waterproofing of roofs, balconies and terraces, wet areas (under tile) such as bathrooms, terraces, kitchens, as well as flowerbeds and planters. Also, for waterproofing and protection of concrete constructions such as bridges, tunnels, etc., as well as protection of insulating polyurethane foam.
The application of URELAST 900 is recommended, reinforcing it with Urelast TEX.
Application conditions
For a good application and durability of the product, the surface must be prepared by cleaning it, drying it and leaving it free of contaminants. Its maximum humidity should not exceed 5%. Dirt, grease, oils, organic substances, dust and surface irregularities must be mechanically removed. Loose parts of the surface must be repaired.
It is important not to clean the surface with water. To maintain the properties of the membrane, the cracks and joints must be sealed. It is recommended to use the primer Urelast Primer AQ (the drying time can be found in the technical sheet) on porous surfaces (concrete, cement or wood) and on non porous surfaces such as metal, ceramic or old membranes.
Before pouring URELAST 900 on the surface, it is recommended to stir it before use. Then, spread it with a roller or a brush until the entire surface is covered (an airless spray can also be used).
In those problem areas (half pipes, chimneys, pipes, siphons, etc.) it is recommended to reinforce the surface with Urelast TEX (place the Urelast TEX on the still wet membrane and then saturate it with the necessary URELAST 900). After 12 hours (no later than 36 hours) apply another coat of URELAST 900. If you wish to apply a third coat of URELAST 900. It is recommended to apply three coats if URELAST 900 is applied without Urelast TEX.
Case Study: waterproofing in community terrace
Rehabilitation of a community roof made of rasilla waterproofed with acrylic rubber paint 3 years ago, due to the constant water seepage to the neighbors.
Support preparation.
Primer.
Urelast 900.
Urelast pigment PU.