Rehabilitation of the Dome of the Baix Llobregat Sports and Social Activities Centre using the system Poliuretan Spray 7129 Roof HFO.
The prestigious Portuguese architect Álvaro Siza is the creator of the Baix Llobregat Sports and Social Activities Centre, located in Cornellà del Llobregat, on the outskirts of Barcelona.
This unique building, with a surface area of more than 40,000 m², is a highly versatile facility that combines design and functionality in a single space. With its opening on 9 January 2006, an major commitment by Cornellà de Llobregat City Council to provide the city with a large, multidisciplinary, public sports complex became a reality.
In October 2019, the property decided to carry out with the company Imrepol S.L. a integral renovation of the building's dome due to problems of leaks.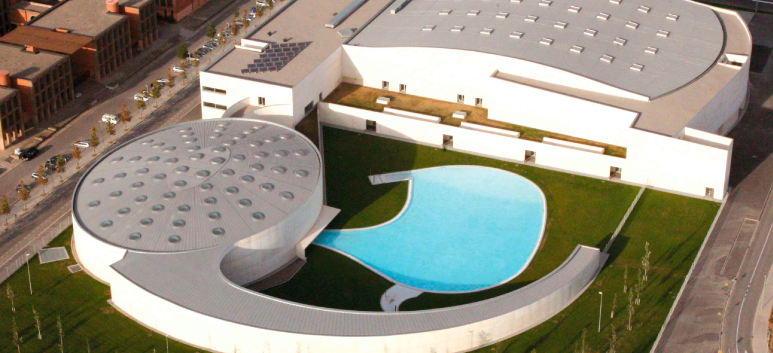 Product description
Poliuretan Spray 7129 Roof HFO is a two-component polyurethane system (polyol and isocyanate), formulated to obtain rigid closed-cell foams and applied by "in situ" projection for thermal insulation. The product is specially designed to provide a smooth surface finish, obtaining a high flatness at the time of application and thus creating a direct effect in reducing the consumption of the protective coating (Polyurea).
The Poliuretan Spray 7129 Roof HFO system has been developed using the 4ᵗʰ generation of blowing agents, which leads to a very low Global Warming Potential index and a considerable reduction of CO2 emissions.
Application
The Poliuretan Spray 7129 Roof HFO system is applied by spraying with high-pressure equipment, fitted with heating and a mixing ratio of 1:1 in volume. Their main applications are the thermal insulation of roofs, ceilings, floors and terraces. Its smooth finish is particularly suitable for the application of thin coatings (paints, elastomers, polyureas and others).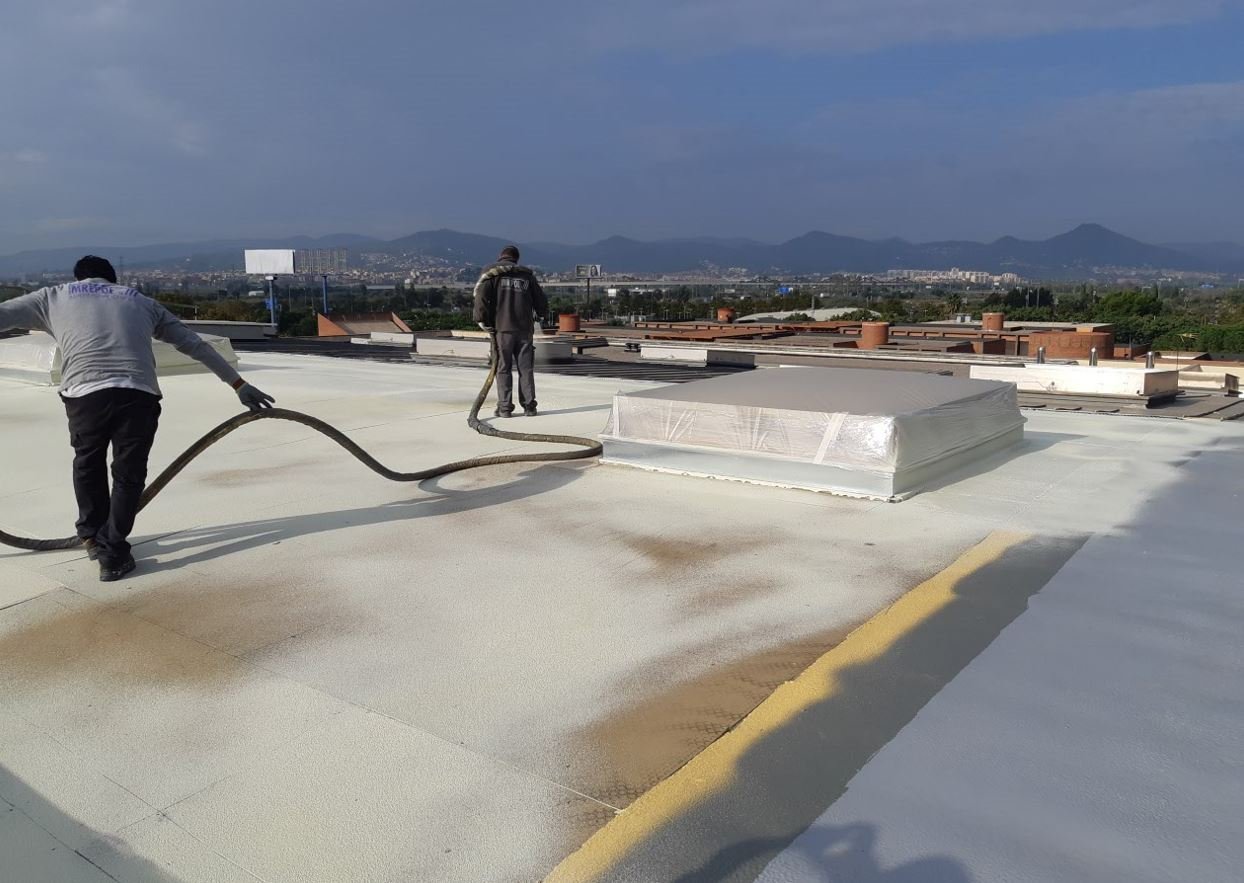 Advantages in application
Total suppression of thermal bridges. The insulation has no joints or cracks, as it is a continuous insulation. Good adhesion to the substrate. It is not necessary to use glues or adhesives for its installation.
Possibility of insulation and waterproofing in a single process. This characteristic is due, on the one hand, to its closed-cell, watertight structure and, on the other hand, to the fact that it is applied continuously, which means that joints can be avoided.
Mobility. Possibility of moving quickly to any building site without the need to transport or store bulky products, such as other insulating materials.
Cavity-sealing for sound insulation-absorption.
Increased living area compared with other insulating material.
Application Conditions
Surfaces must be clean, dry and free of dust and grease to ensure good adhesion of the foam to the substrate; if the substrate is metallic, it must also be free of oxide and rust. Tu ensure good adhesion on metallic substrates, the use of a suitable primer is recommended, as well as the application of a minimum density of 50 Kg/m3.
The thickness of the layer is perfectly controllable and can be modified by varying the application speed and/or the mixing chamber of the spray gun; the thickness should be 10 to 20 mm. Foam performance is influenced by a number of factors which are listed below:
Atmospheric conditions: ambient and substrate surface temperature and humidity, as well as other environmental factors such as wind and others.
Adjustment of machinery, appropriate ratio.
Type of application : vertical, horizontal, roofs.
Application method: coat thickness, varnish application.
It should be noted that the higher the foam's performance is the lower the number of coats applied for the same thickness.
On cold surfaces, the first coat takes longer to react and the growth is usually not 100%, therefore, in these cases it is recommended that the first coat be a varnish to generate heat, warm the substrate and thus the second layer foam properly. The recommended temperature in hoses is from 30 to 50ºC, depending on the environmental conditions. The minimum recommended substrate temperature during spraying is 5ºC.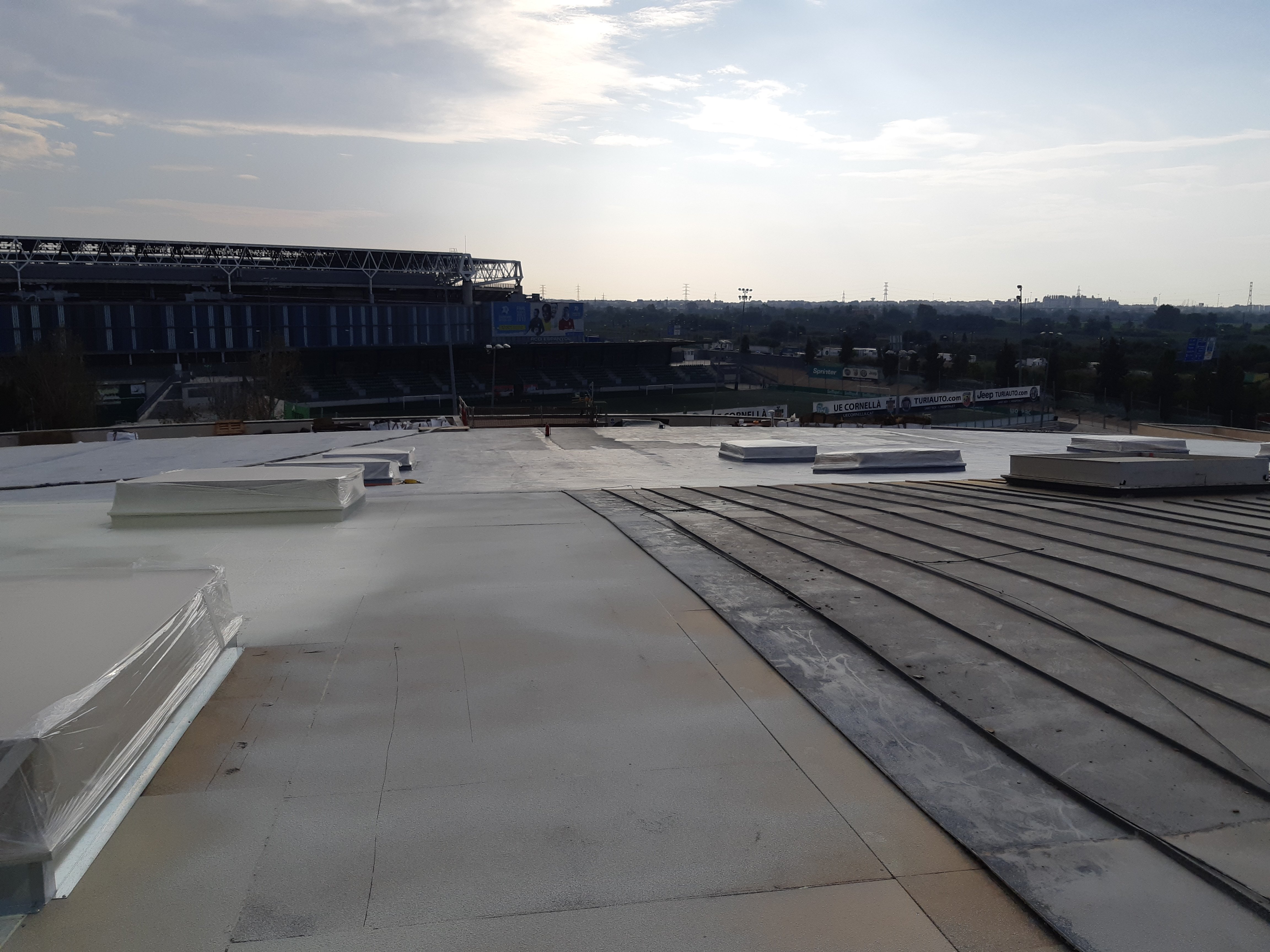 Final result
Spray application makes it possible to coat areas with an irregular surface or areas with very complicated geometry, forming a uniform film and providing thermal and acoustic insulation to the entire structure, as well as great protection against wear, leaks and humidity.
In this specific case, to consider the application and rehabilitation finished correctly, a total of three products were used:
Homogenisation and sealing of the surface with 2 cm of our product Poliuretan Spray 7129 Roof HFO.
Pure aromatic polyurea.
UV protection.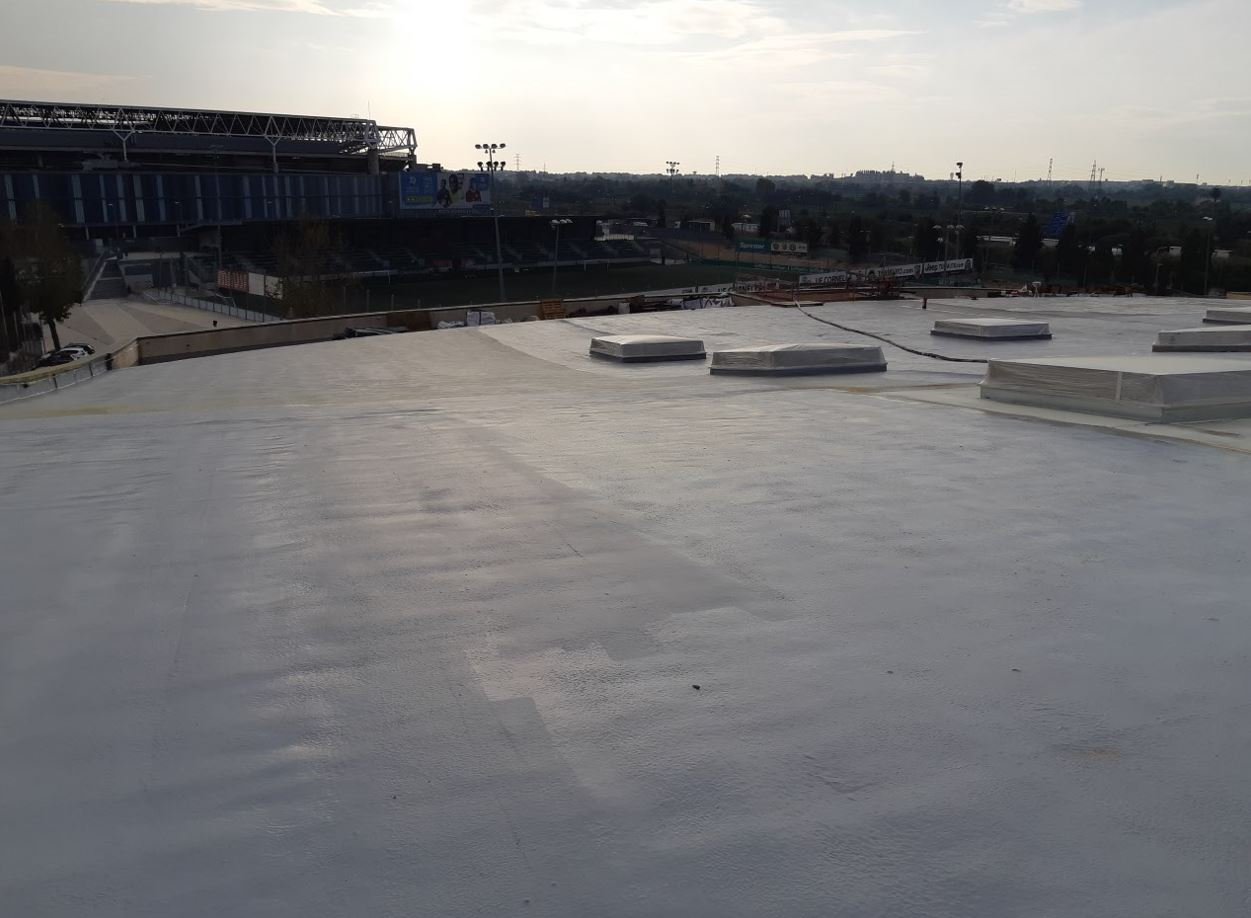 For other construction solutions, contact our technical commercial department and the appropriate solution will be adapted to each type of work.