Integral Rehabilitation of the roof of an urban building with Synthesia systems Poliuretan Spray S-403 HFO and Urespray P-500.
Rehabilitation Project
At the end of 2020, the owner of the building decided to carry out a complete renovation of the roof of the building due to problems of dampness and poor thermal insulation. Until then, the roof had an asphalt roofing membrane in poor condition, which was removed as it was not performing its waterproofing function correctly.
The combined system of Synthesia Technology Poliuretan Spray S-403 HFO + Urespray P-500 (polyurea) was chosen as a protection system against leaks and sealing of structures, in order to achieve extra insulation.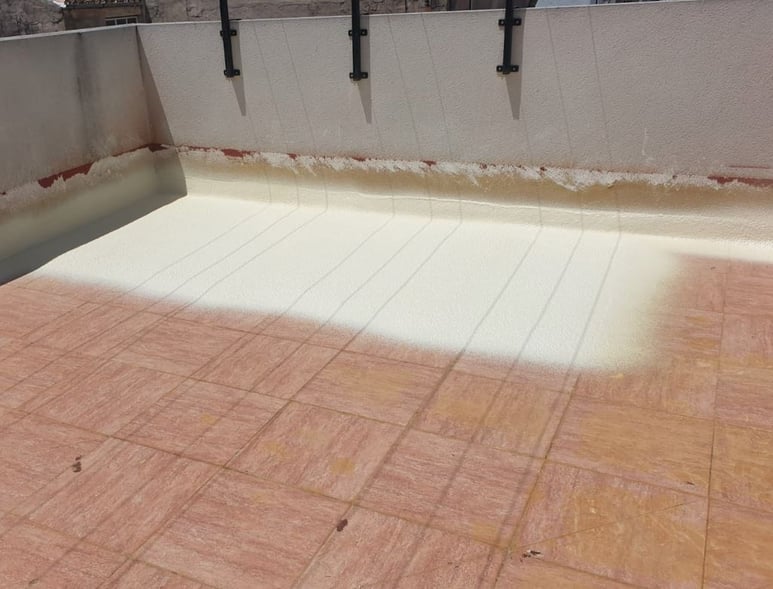 Products description
Poliuretan Spray S-403 HFO is a two-component polyurethane system, polyol and isocyanate, formulated to obtain rigid closed-cell foams to be sprayed-in-place for thermal insulation.
Poliuretan Spray S-403 HFO system has been developed using the 4th generation of blowing agents which leads to a very low Global Warming Potential and a considerable reduction of CO2 emissions.
At Synthesia Technology we use recycled PET from plastic bottles in the production of polyols, a key raw material used in the manufacturing of high performance insulation. We are demonstrating that it is possible to use plastic waste responsibly, upcycling it into brand-new products that help to reduce energy consumption and CO2 emissions, to the benefit of all. In this way, we are promoting the development of a circular and sustainable economy. Specifically, the Poliuretan Spray S-403 HFO is made from:
10% of Recycled PET
8% of Products of renewable origin
Equivalent to 31 PET bottles* per m2 for applied foam**
* Considering a weight of 8,6 g per PET bottle
** Considering a thickness of 10 cm and an applied density of 48 kg/m3
On the other hand, the Urespray P-500 is a polyurea elastomer system formed by the reaction of two liquid components (polyol and isocyanate) fast drying at room temperature applied by mechanical spraying.
Both are certified products. Urespray P-500 has an ETA (European Technical Assessment) and Polyurethane Spray S-403 HFO is CE marked, N-marked and Keymark certified.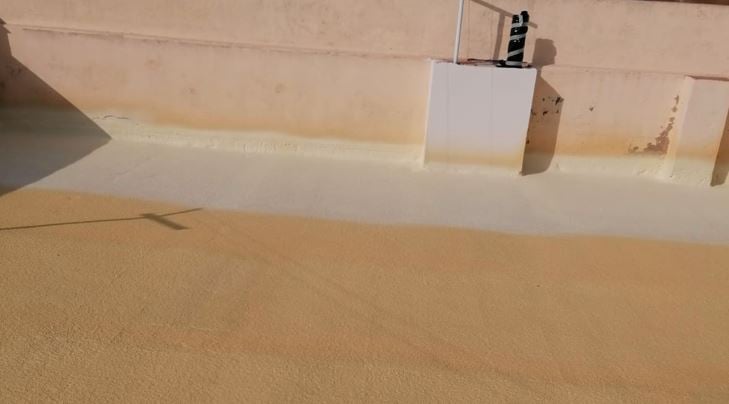 Application of Poliuretan Spray S-403 HFO
The Poliuretan Spray S-403 HFO system is applied by projection using high-pressure equipment equipped with heating and a mixing ration of 1:1 in volume. Its main applications are the thermal insulation of building enclosures, housing (partition walls), industrial buildings, farms, buried walls, etc. and its applied density is 43-53 g/l.

Advantages in application
Total suppression of thermal bridges. The insulation has no joints or cracks, as it is a continuous insulation. Good adhesion to the substrate. It is not necessary to use glues or adhesives for its installation.
Possibility of insulation and water- proofing in a single process. This characteristic is due, on the one hand, to its closed-cell, watertight structure and, on the other hand, to the fact that it is applied continuously, which means that it avoids joints.
Mobility. Possibility of moving quickly to any building site without the need to transport or store bulky products, such as other insulating materials.
Cavity-sealing for acoustic insulation.
Increased habitable area compared to other insulating material.


Application of Polyurea Urespray P-500
It is applied after having applied the product Poliuretan Spray S-403 HFO.
The practical method of application is by means of hot spray equipment, with the following characteristics:
Pressure of the components: 150-200 bar
Pre-heaters temperature: 70-80ºC
Hose temperature: 70-80ºC
In cold environments, it is recommended to regulate the temperature of the
components' pre-heaters to equalize pressures and guarantee a good mixture.
It is recommended to apply in two or three coats to reach the optimum thickness (approx. 2 mm). It is possible to pigment Urespray P-500 in different colours.
Application Conditions
The first product applied was Poliuretan Spray S-403 HFO. Cavitations of the pumps may lead to a decompensation of the polyol/isocyanate mixture ratio producing poor quality foam. To avoid this phenomenon, the machine manufacturers recommend the use of separate pumps.
Surfaces must be clean, dry and free of dust and grease to ensure good adhesion of the foam to the substrate. In addition, if the substrate is metallic, it must also be free of oxide and rust. To ensure a good adhesion on metal substrates, the use of a suitable primer is recommended.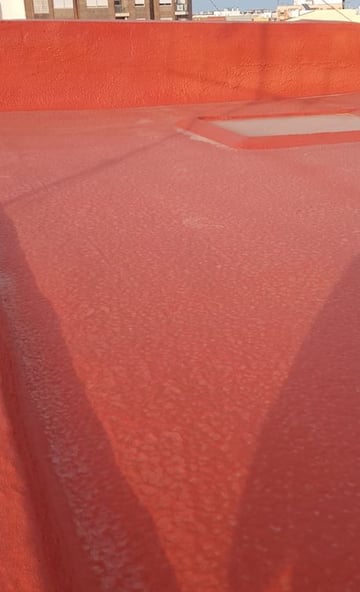 The performance of the foam is influenced by a number of factors, such as:
Atmospheric conditions: ambient and substrate surface temperature and humidity, as well as other environmental factors (wind, etc.)
Adjustment of the machinery, appropriate ratio.
Type of application: vertical, horizontal, roofs.
Application process: thickness of coats, application of varnish.
The polyurea coating was then applied, in this case using our product Urespray P-500. The practical method of application is by means of hot spray equipment.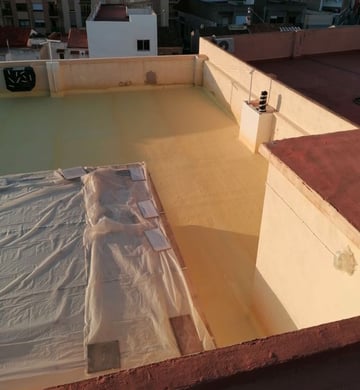 Final result
The application by spraying makes it possible to coat areas with an irregular surface or with a complicated geometry, forming a uniform film in the desired colour and protecting the entire structure against leaks and humidity, thus extending the life of the structure.
In this particular case, in order to consider the application and rehabilitation finished correctly, the following steps were followed:
Homogenisation and sealing of the surface with our product Poliuretan Spray S- 403 HFO.
Application of Polyurea using our product Urespray P-500.
Of the wide variety of possible finishes for this type of solution, in this renovation project the polyurea was then covered with tiles to complete the work.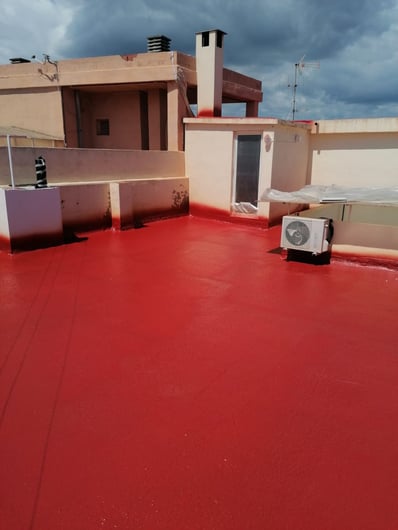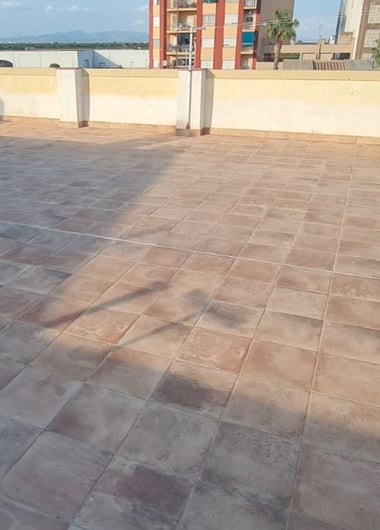 For other construction solutions, contact our technical commercial department and the appropriate solution will be adapted to each type of work.