Urespray P-500 is an elastomeric system based on pure polyurea formed by the reaction of two liquid components applied by mechanical spraying and fast drying.
It is an integral elastic coating, without join
ts or overlaps, highly flexible and suitable for waterproofing. Depending on the environmental conditions, due to its fast-drying time of less than 5 seconds, it can be walked on within a few hours of application.

Once completely cured, the Urespray P-500 system has excellent waterproofing and mechanical properties such as resistance to abrasion, traction and tearing. It also has very good behaviour at low temperatures, as well as high chemical resistance to most chemical agents.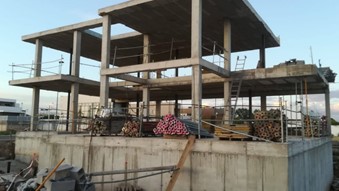 Applications
The main applications of Urespray P-500 are in the field of construction and industry, mainly for waterproofing and protection of:
Roofs and landscaped facades.
Pitched or flat roofs.
Flat walkable roofs, balconies, terraces, car parks, roofs, concrete structures.
Roofs and pavements exposed to road traffic.
Tanks and irrigation channels.
Non-slip applications.
Retaining walls and foundations.
Swimming pools and wastewater.
Elastomeric coating of polyurethane and expanded polystyrene foams.
The application by spraying allows to cover areas where the surface is irregular or areas of complicated geometry by forming a uniform film.
Application conditions
The application method is by means of hot spray equipment, with the following characteristics:

Component pressure: 150-200 bar
Preheater temperature: 70-80oC
Hose temperature: 70-80oC
In cold environments, it is recommended to regulate the temperature of the
components' pre-heaters to equalise pressures and guarantee a good mixing.
All surfaces to be coated must be clean of dust and grease and completely dry. The temperature of the surface, according to tests carried out during the process of awarding the European Technical Evaluation (ETE) reference 16/0153, are wide and applications with temperature windows of between -20oC to 90oC can be carried out. However, due to our experience, we recommend applying the polyurea above 5°C and a relative humidity of less than 75%.
Due to its properties, the Urespray P-500 system adheres to any surface. However, it is necessary to test the adhesion and probably the use of primers before application. The minimum thickness of the applied product, once dry, must be 1.6 mm, according to the European Technical Evaluation (ETE), with a recommended thickness of 2 mm.
For a good application, the application of thin layers is recommended, allowing them to dry between coats, and these should be applied in a crosswise manner. To obtain an optimal waterproofing, the surface must be free of humidity, as this can produce pores or bubbles, so it is recommended to apply a very thin first coat which, in the event of bubbles or blisters appearing, would indicate the presence of humidity.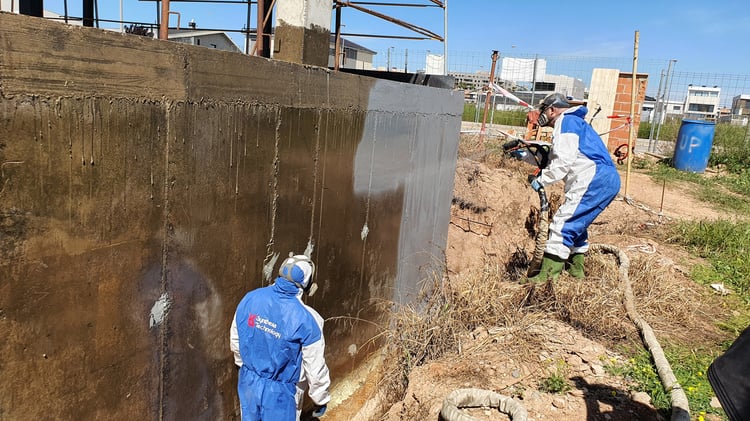 Preparation of the surface or substrate
The preparation of the surfaces on which the system is to be applied is of fundamental importance to its ultimate success.
In this specific case, the condition of the concrete, the humidity on the substrate and the porosity were examined.
Primer
Primers improve the adhesion of surfaces or substrates, as well as their consolidation and sealing.
There are 2 types of primers, epoxy and polyurethane based, and they must be selected according to the type of surface or substrate, its porosity, degree of humidity, application temperature, etc.
In this case study, it was decided to use PO-84 primer, which is a two-component, 100% solids polyurethane primer that is mainly developed for sealing and priming porous wood and concrete substrates to improve the adhesion of Synthesia polyureas.
Application of the Urespray P-500 system
Before starting the application, the thermo-hygrometric conditions were considered, a fundamental parameter that requires careful analysis.
It is essential to know the presence of condensation, dew or humidity on the substrate. These factors lead to pinholes that create micro-craters in the coating, which compromises its watertightness and can cause adhesion problems.
Knowing the dew point allows to establish whether the application conditions are suitable. It is essential that the surface temperature is at least 3°C above the dew point.
In this specific case, the application was carried out in two crossed coats, with a thickness of approximately 1.0 mm per coat, so the total thickness applied was 2.0 mm. Between the first and the second coat, a reasonable amount of time was waited to avoid the heat generation between layers.
The first coat was used as a test/preheating of the substrate. It is recommended to always do this, with the minimum possible consumption, in order to detect possible humidity problems or pathologies such as pinholes or blisters on the surface. Subsequently, the rest of the usual layer was applied until the final thickness was achieved.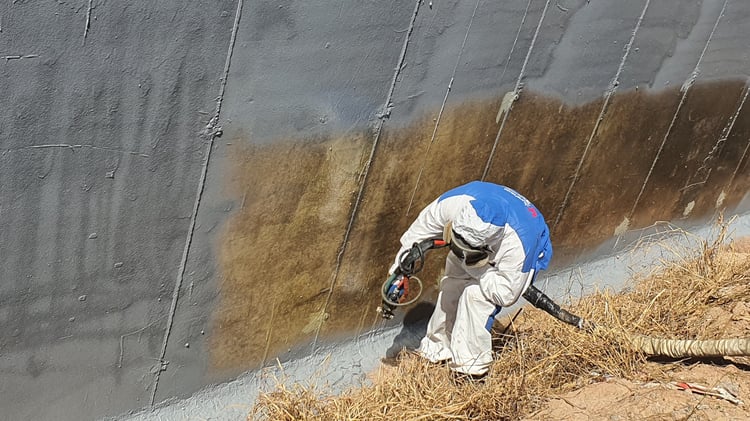 Final result
Pure polyurea has a excellent mechanical resistance, with a high performance against environmental aggressions, even without any surface coating.
However, one of the fundamental characteristics of polyurea is its low resistance to ultraviolet radiation, which causes a marked yellowish colour of the surface, a fact that does not affect its properties.
Whenever possible, and the final solution requires maintaining colour stability, the best option would be to apply a layer of our aliphatic resin, Alisyn range. In this case, as it is a final solution for underground walls, it would not have been appropriate to use it, so it was chosen a finish with a protective draining membrane and subsequent backfilling with earth.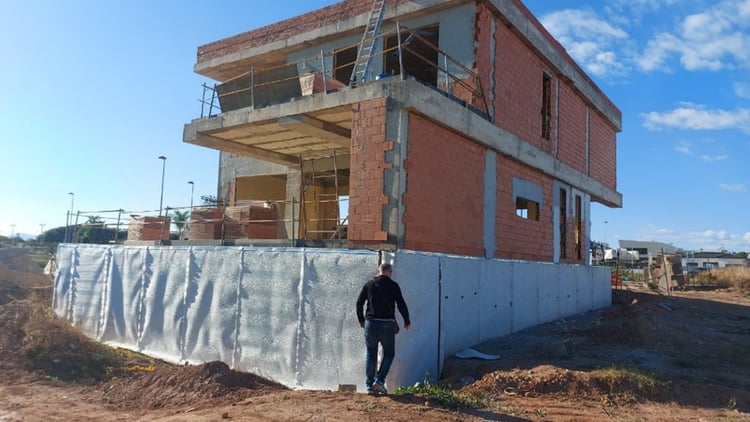 For other construction solutions, contact our technical commercial department and the appropriate solution will be adapted to each type of work.