There is a wide variety of polyurethane systems that can mould objects and give them realistic material finishes. We have some examples, such as the integral skin leather finish for office furniture or the imitation of brick or stone in decorative panels.
In today's interior architecture, exposed timber beams are widely used. Is it possible to manufacture these elements using polyurethane systems? Yes, it is, thanks to moderate moulded density polyurethane systems.
Would you like to know all the characteristics of our polyurethane system for wood beams imitation? You can ask for the technical sheet at the end of this article.
Rustic polyurethane beams like those shown in the picture are a good alternative to natural wood in order to create trendy interior environments. As you can see, the imitation of the wood finish can reach perfection, so no differences can be distinguished.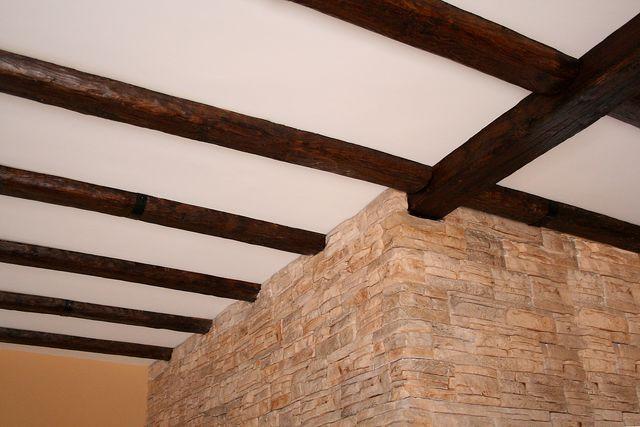 Thanks to the easy moulding of polyurethane systems that are used for these purposes, the resulting beams can have U-shapes, hollow square shape or solid appearance, among other options. The resulting beams can be used, for example, to cover joints of boards in roofs or to cover structural concrete beams.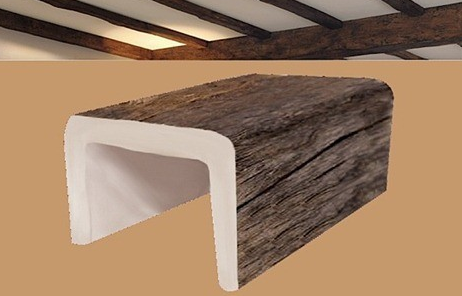 Polyurethane system for wooden beams moulding: Synthemad 9372-A
In the case of Synthesia Technology, we manufacture the Synthemad 9372-A system, designed for the manufacturing of moulded parts of a high technical value in a low density range. It has a moulded density of 80-150 g / l.
In addition, this system does not contain CFCs or HCFCs (it is not harmful to the environment or to health).
System components
Component A: Synthemad 9372-A-70. Polyol blend, containing catalysts, surfactant additives and foaming agents.
Component B: Isocyanate H30 MDI (Diphenylmethane diisocyanate).
Would you like to learn all the technical characteristics of our polyurethane system for wood beams imitation? Ask for the factsheet in our contact form: