Ventilated facades are a widely used constructive solution both in new buildings and in the renovation of existing buildings. In order to comply with all the requirements expected by users and demanded by all building technical regulations, ventilated facades must be waterproof and have optimal insulation.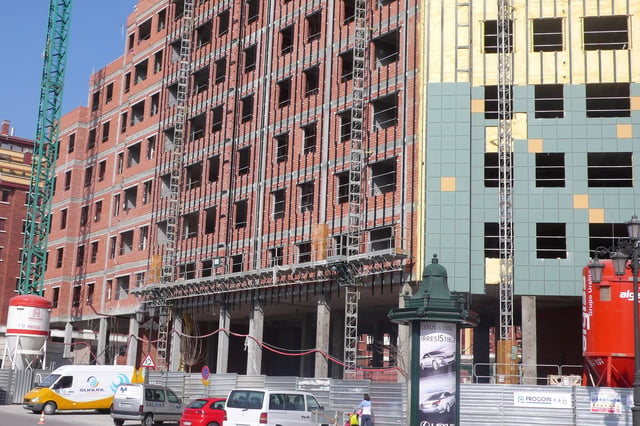 The current ventilated facades have their origin in the second quarter of the 20th century in England, with the emergence of the "Cavity Wall", which is a two-sheet wall joined by means of staples and with a ventilated gap between them. The initial advantage of this type of facades was that it prevented rainwater infiltrations.
A ventilated facade is a type of enclosure composed of external cladding, ventilated gap, insulation on the main sheet and interior finish. It must meet several technical requirements regarding energy savings, protection against noise, fire safety, absence of condensations and protection against water.
Ventilated facades waterproofing with sprayed polyurethane foam systems
In the specific case of ventilated facades where sprayed polyurethane foam is used as insulation, the composition of the whole system would be as follows:
Some of the advantages of ventilated facades using sprayed polyurethane foam as insulating material are:
There are no thermal bridges.
Optimization of space. By using sprayed polyurethane foam, we achieve maximum insulation with the minimum thickness of insulating material.
Acoustic insulation. It improves the acoustic behavior of the building complex.
It avoids condensation. It allows the building to transpire naturally, avoiding condensations.
Long useful life. Sprayed polyurethane foam is a material that maintains its properties during the useful life of the building, guaranteeing its durability.
And finally, the advantage we are analyzing in this article, which is the impermeability of the facade against rainwater.
The importance of watertightness in ventilated facades
Closed cell sprayed polyurethane foam is a continuous intermediate coating that guarantees protection against water.
It can be applied to any facade, with any degree of watertightness, and without any previous rendering. It meets a degree of watertightness of 5, the maximum. In addition, its continuity guarantees that there are no joints or cracks through which water could get into the building.
In ventilated facades, where thermal insulation is always exposed to rainwater, it is essential that the insulation acts as a waterproof barrier. In this way, it will protect the main sheet of the facade against water and it will not affect the thermal performance of the insulation system.
Do not hesitate to contact us or download the following catalogue to receive further information on our polyurethane systems: