The thermo-acoustic insulation of buildings is a guarantee of comfort and health for the users. Polyurethane systems provide excellent thermal and acoustic performance, controlling sound waves inside buildings (impacts, neighbours, furniture) and outside (traffic, aircraft). All thanks to its low thermal conductivity (0.036-0.038 W/m K), sound absorption and its great sealing capacity.
Thus, for good thermo-acoustic insulation, it is essential to insulate the enclosure, the internal compartments (partitions, floors) and to eliminate cracks or fissures that could cause infiltration.
Improving acoustic insulation is key to the healthiness of buildings, as well as complying with the regulations on noise protection set out in the Basic Document of the Technical Building Code CTE DB-HR. Synthesia Technology offers several polyurethane systems by projection in situ, suitable for both acoustic and thermal insulation, the latter being contemplated in the CTE-DB-HE on energy saving.
Phono Spray S-904
The Phono Spray S-904 open-cell, low-density (9-11 Kg/m3) polyurethane system has a high acoustic absorption capacity. It improves thermo-acoustic insulation with its application on facades and interior partitions. With a great adhesion to all construction materials, provided they are clean and dry, it effectively suppresses thermal and acoustic bridges.
Phono Spray S-907
This Synthesia Technology product is an open cell, medium density (55-65 kg/m³) projected polyurethane system. The elasticity and porosity of Phono Spray S-907 make it the best solution for absorbing impact noise on floors and floors since, due to its structure, it effectively absorbs noise and makes buildings soundproof.
Phono Spray I-905
Injected polyurethane is the most suitable insulation system for thermo-acoustic rehabilitations. The application of Phono Spray I-905 on facades and dividing walls between houses achieves the expansion of the polyurethane foam inside the air chamber. The resulting material is rigid, open cell and low density. It adapts to the particularities of the substrate and adheres perfectly, without sagging or settling.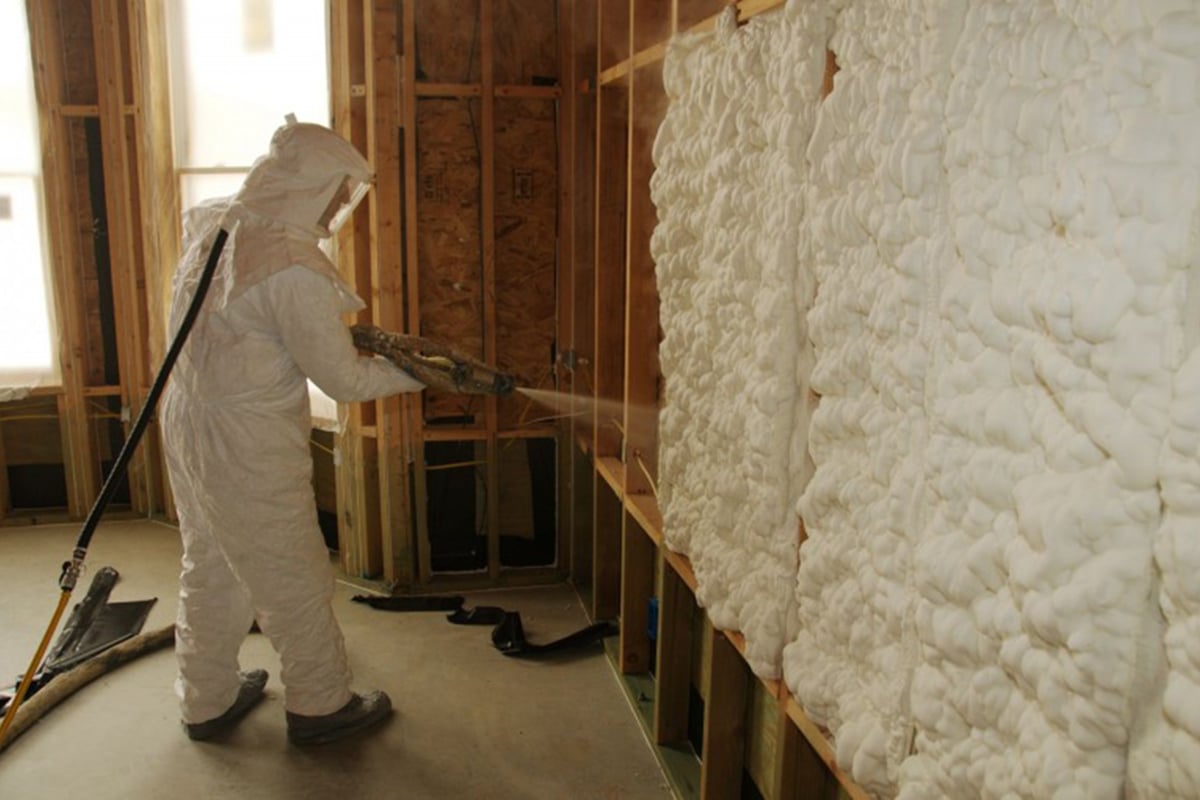 Advantages of polyurethane thermo-acoustic insulation systems
The high sealing capacity of polyurethane makes it the optimum solution for thermal-acoustic insulation of city dwellings and buildings with high noise levels, such as discotheques, factories or places with air traffic.
Both in refurbishments and in new constructions, its installation - simple and quick - means a continuous layer, without joints or overlaps. In this way, it solves cracks and deteriorated areas of the construction elements, all with a very reduced thickness. It is also very effective for sealing doors, windows and drainage, through which infiltrations are common.
It is advisable to apply polyurethane systems for thermo-acoustic insulation both in facades and in floors, partitions and ceilings, in order to achieve integral acoustic comfort.