Metal roofs usually require renovation and waterproofing due to a multitude of factors, such as corrosion, high expansion or contraction over time (resulting in loosening of fastenings or cracks in joints and seals), condensation or leaks in difficult areas (such as interior guttering, skylights, etc.).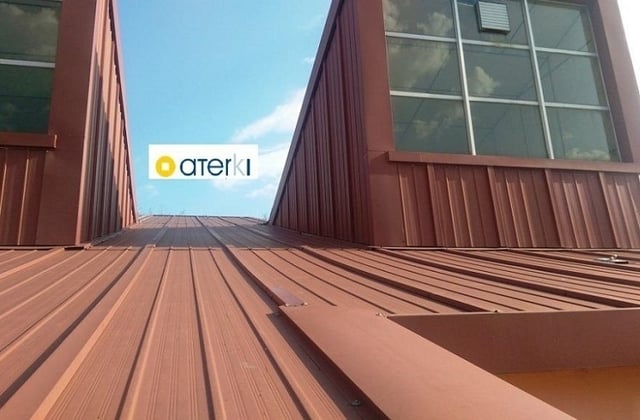 The added value of the spaces under roofs
Due to the scant buildability and the value of each square metre for builders and users, being able to take advantage of all the floors in a building is crucial. For this reason, solutions are sought so that attic spaces under roofs offer interior comfort.
Traditionally, these spaces were not considered habitable and they were mainly used to store both tools and food.
To ensure that these spaces have adequate comfort for their habilitability, roofs renovations must be carried out to provide insulation and waterproofing.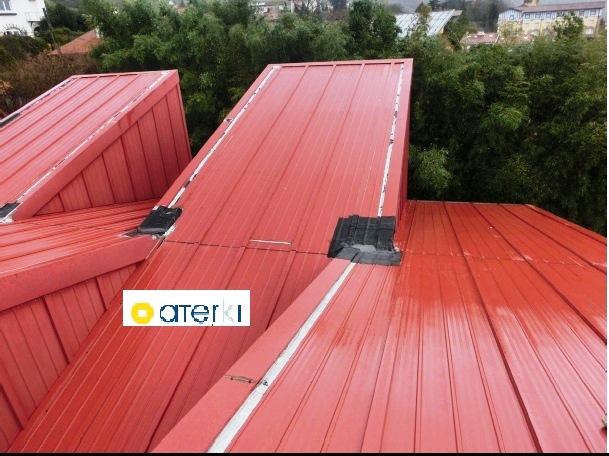 A renovation for each type of roof
The diversity of roof typologies must be taken into account when renovating roofs: flat or leaning, metal or wood, with previous insulation or without insulation, etc.
After analyzing the type of roof, we also have to consider different factors: if it has been previously renovated, if it presents structural problems or if it has already some type of thermal insulation.
Roofs with structural problems require more complex actions in their framework (beams, rafters, boards).
Conducting a preliminary study is always advisable to contemplate the possibility of renovating the existing structure, rather than making a completely new one.
If the roof has been previously renovated or modified (extensions, change of roofing material), we must bear in mind that changes in geometry might have occurred due to the settlement of new loads. A common practice in cases of ancient renovations was to fill the space between the roof framing with tiles or bricks.
Roofing materials, such as tiles, have been subject to wear in their fixing points to the rest of the structure, which puts the whole at risk both structurally (loose pieces that drag others) and from a point of view of insulation and waterproofing (water and other environmental agents have easier access to the structure).
In terms of insulation and waterproofing, they may exist or not and, if they do, they might be worn out by the widespread use of insulating materials that are not resistant to the passage of time and the wear and tear of waterproofing solutions.
Example of metal roof renovation in Hondarribia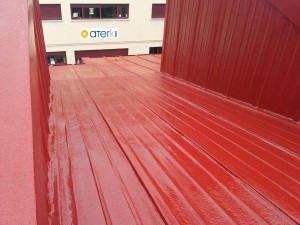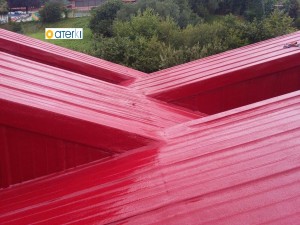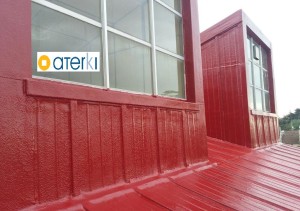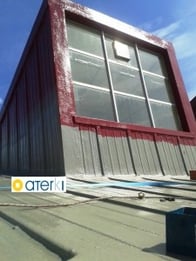 For the renovation of the metal roof, ATERKI proposed a sprayed polyurethane system. The aim was to eradicate the problems of leaks as well as to improve the insulation of the roof.

In addition, the work required a short deadline (2 weeks).

The metal roof renovation in Hondarribia (Gipuzkoa) was carried out by projecting of ATK ROOF high-density polyurethane foam. Afterwards, the hot polyurethane ATK COAT was applied and the highly resistant to UVA ATK TOP red final layer.

The client was very satisfied with the system's performance (durability, speed...) as well as the aesthetic result.

Thanks to this system, the thermal insulation of the roof and the waterproofing were improved in a very short time and at a low economic cost.
More information on Aterki's website.
Would you like to learn more about our waterproofing system for roofs and other surfaces? Read our article Polyurethane system for roof waterproofing with ETA or download the documents below. You will receive the product factsheet, the ETA document and a related success story: