Injected polyurethane is an ideal material for the thermoacoustic renovation of façades and dividing walls between dwellings, since large works or machinery are not required for its installation, nor demolition works. When injecting polyurethane into the cavity wall, it expands completely, adapting itself to its shape and elements, and adhering perfectly without slipping or settling.
The system Phono Spray I-905, manufactured by Synthesia Techynology, is an injected polyurethane system suitable for improving the thermoacoustic insulation of buildings, thus complying with current noise protection regulations.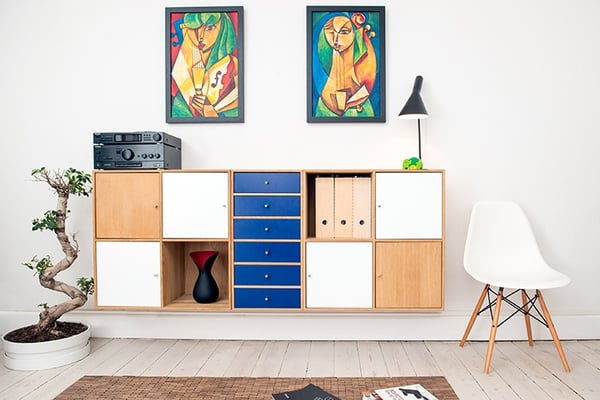 The PhonoSpray I-905 polyurethane system
Phono Spray I-905 is a thermoacoustic polyurethane system made of two components, polyol and isocyanate, which contains no foaming agents that may damage the ozone layer.
The system is applied by casting through in situ injection, obtaining rigid low-density open-cell foams with excellent acoustic absorption properties.
The application of Phono Spray I-905 in a given construction solution improves the overall sound insulation of that solution.
It offers many advantages, such as:
Suppression of thermal bridges.
Good adhesion to the substrate.
Easy to handle, not having to transport or store bulky products as in the case of other insulation materials.
Application of the Phono Spray I-905 system
This system is applied by casting with high pressure equipment, equipped with heating, with a mixing ratio of 1:1 in volume. Its main application is the improvement of thermal-acoustic insulation against airborne noise in enclosures of buildings under renovation works, both in partitions between neighbours and exterior façades.
The recommended temperature in hoses is 30ºC to 50ºC depending on environmental conditions and the minimum recommended temperature of the substrate during injection is 5ºC.
The adhesion of the Phono Spray I-905 system is excellent with all the materials used in construction (concrete, ceramics, laminated gypsum, wood, etc.) provided they are clean, dry and free of dust and grease.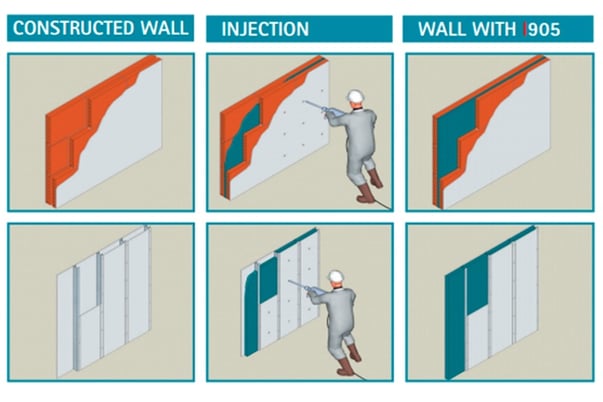 I-905 Phono Spray Tests
Sound absorption tests
Sound absorption of the Phono Spray I-905 has been determined at different frequencies in reverberant chamber according to the UNE-EN 20354:1993 standard. The results obtained, as well as the sound absorption values of closed-cell polyurethane foam for thermal insulation, are as follows:
Frequency (Hz)

Acoustical absorption capacity

UNE-EN 20354:1993

Phono Spray I-905

PU closed cell

125

0,20

0,12

250

0,40

0,18

500

0,80

0,27

1.000

0,60

0,19

2.000

0,40

0,62

4.000

0,50

0,22

NRC (noise transmission reduction coefficient)

0,50

0,32
Sound insulation tests
Noise insulation tests have been carried out on the airborne sound insulation of the Phono Spray I-905 in accordance with UNE EN ISO 140-3:1995 standard on typical vertical walls in the renovation of wet partitioning as well as on new laminated gypsum partitions.
Wet partitioning in renovation

Noise reduction rate UNE-EN ISO 140-3:1995

Ra (dBA)

Rw(dB)

LP ½ foot + Phono Spray I-905 (100 mm) + LHS5

51,3

51
Laminated Gypsum partition wallboard

Noise reduction rate UNE-EN ISO 140-3:1995

Ra (dBA)

Rw (dB)

PYL15 + Phono Spray I-905 (46mm) + PYL15

33,3

35
The following video shows the application of the Phono Spray I-905, an optimal solution for the insulation of façades and dividing walls:
Do you want to learn more about the technical features of our thermoacoustic insulation solutions, including Phono Spray I-905? Download the document below or
contact us

to receive further information: