In order to achieve a maximal degree of comfort inside a building, the sound waves surrounding the building must be controlled. Moreover, internal compartmentalization elements such as floors shouldn't be forgotten.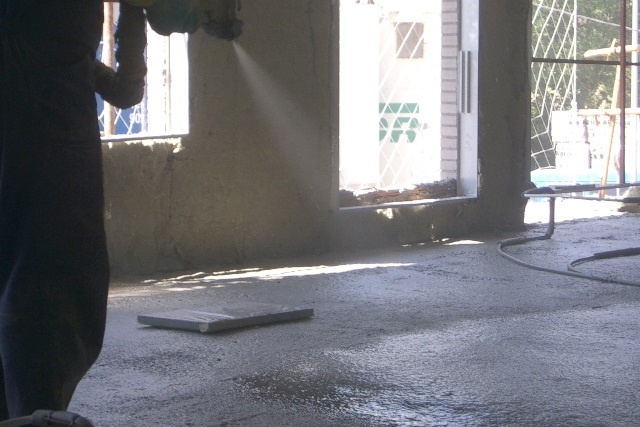 Sound is transmitted when sound waves strike a surface. It is then that the object absorbs the waves, reflects them and transmits them. If we do not want the internal sound to expand or the external one to get into a room, we should insulate the surfaces that surround that room. Thus, the sound is not transmitted due to the interposition of a separating barrier; such a barrier is commonly known as acoustic or sound insulation.
Sounds or noises?
Not all sounds are annoying, but when this is the case, we call them noises. There are two basic types of noise: airborne noises and impact noises.
In the case that concerns us, which is the noise transmitted through the floor in a building, both types of noise exist. Airborne noise would be caused by sound waves such as music, television or talking people, while impact noise is caused by the passage of people, the sliding of furniture, falling objects, etc.
The most logical way to prevent a noise from bothering us is to interpose a material in the slab. This material, like the separating barrier that we have mentioned above, is the acoustic insulation of the floor.
Are polyurethane systems good acoustic insulators?
Regarding open-cell polyurethane foam with densities between 12 and 70 kg/m3, the following products can be found on the market:
Low density sprayed polyurethane foam Phono Spray S-904, densities between 12 and 30 kg/m3.
High density sprayed polyurethane foam Phono Spray S-907, densities between 50 and 70 kg/,m3.
Injected Polyurethane Phono Spray I-905, densities between 12 and 30 kg/m3.
Taking into account the requirements of the Spanish Technical Acoustics Building Code DB HR (link in Spanish), optimal acoustic insulation for floors can be achieved using the densities provided by the product Phono Spray S-907. Constructive solutions are obtained for floors or slabs L'nTW (DB) ≤ 65.
Acoustic insulation of floors
The aforementioned product is a Synthesia Technology specific solution for floor insulation based on sprayed polyurethane foam.
Its porosity and elasticity make it an ideal material for insulation against impact noise in floors or slabs.