When it comes to applying thermal insulation techniques, floors are usually overlooked, since the insulation of façades and roofs of buildings seems more important. However, a large part of the energy losses in buildings (up to 20%) occur through floors, so the use of optimal insulation products is essential to guarantee maximum energy efficiency and inner comfort.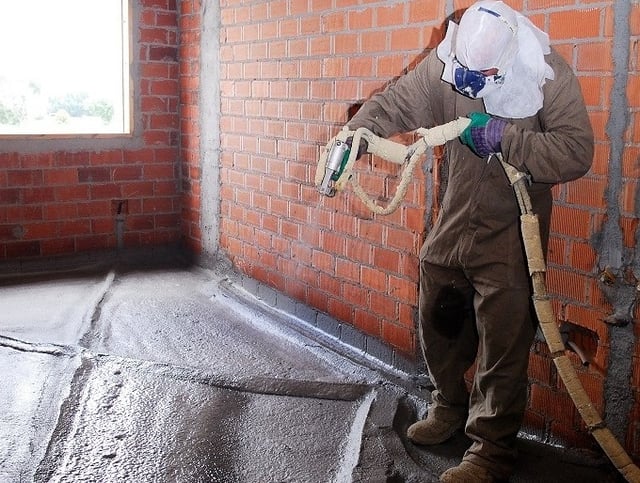 The thermal insulation of floors is conducted by projecting or installing a thermal insulating material on the floors in contact with non-habitable spaces, supported on the ground or in contact with the outside air.

The advantages of applying thermal insulation on floors are mainly:


Minimization of energy losses (with consequent energy and economic savings) through the floors of the building.
Reduction of condensation risks and improvement of thermal comfort. The floor temperature might be much lower than the overall room temperature, which can cause lack of comfort due to "cold radiation" and the risk of surface condensation.
Insulating the floor can save up to £45 - £55 a year, and the gaps between floors and skirting boards can also be sealed to reduce draughts.
Floor insulation: the case of sprayed polyurethane systems
Sprayed polyurethane foam is one of the most used insulation materials in buildings. Spray foam can be directly applied to the concrete base.
The depth of the foam depends on the U-Value requirement. Synthesia Technology products use 50 mm-70 mm to obtain values among 0.16W/m²K and 0.22W/m²K, which provide an optimal insulation.
Solutions for floor insulation
There are at least three techniques to minimise thermal bridging when insulating floors: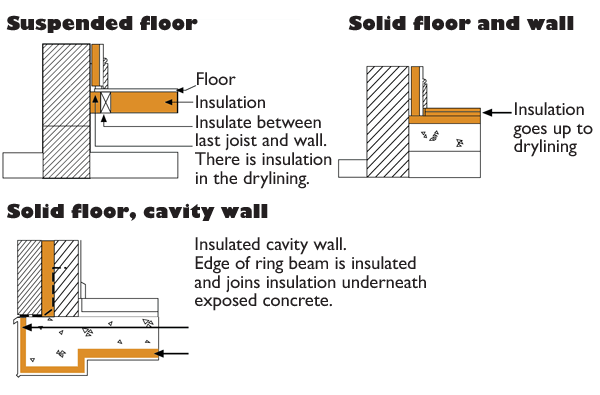 Insulated cavity wall is a good solution because it's the most complete and guarantees the fulfillment of the requirements of energy efficiency. This is a feasible solution in buildings already built thanks to injected polyurethane.
In case of new constructions, foam spray Insulation guarantees a continuous insulation, without cracks or thermal bridges.
Synthesia Range of Insulation for Floors. BBA Certificated.
This Agrément Certificate Product Sheet relates to the Synthesia Range of Insulation for Floors, a spray-applied, in-situ thermal insulation for suspended timber ground floors and concrete ground floors of new and existing domestic buildings.
You can check more information about our range of insulation for floors (Building Regulation, Design Considerations, Thermal Performance, Installation...) in the following document.
Are you interested in this polyurethane system? You can contact us to receive further details or download our catalogue of insulating systems: