Noises inside buildings have become a problem that requires effective solutions such as acoustic insulation. The interior comfort of the occupants of a building must be guaranteed in accordance with current regulations and through optimal building practices.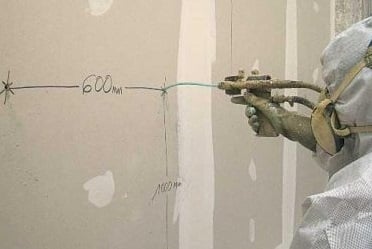 For constructive elements such as walls, a polyurethane acoustic solution can be used. Is it possible to achieve high levels of sound absorption by injecting the insulating material into the air gap?

In the case of buildings with no acoustic insulation on the walls, there are systems such as Phono Spray I-905, a solution of injected polyurethane for thermoacoustic insulation and renovation.
The application of Phono Spray I-905 improves the overall acoustic insulation of the constructive solution. This system is applied mainly to fill-in cavities and uninsulated air gaps between partition walls in buildings.
With this product, we thermally insulate five times more than with other products, and acoustically we comply with the current CTE in its Basic Document of protection against noise, rehabilitating quickly and easily, without tearing down any of the sheets of the constructive solution.
Phono Spray I-905 system
Phono Spray I-905 is a thermo acustic two-component polyurethane system composed of polyol and isocyanate. The system is injected "in situ" obtaining open cell low-density rigid foams with excellent acoustic absorption properties.
Furthermore, Phono Spray I-905 system does not contain "Ozone Depleting Potential" blowing agents.
Application advantages
Total suppression of acoustic and thermal bridges.
Good adherence to the substrate.
Fast access and transportation to any place without having to carry or store bulky products like other acoustic and/or thermal insulating materials.
This system provides an excellent adherence to all building materials (concrete, ceramic, laminate plaster, wood, etc.) always bearing in mind that the substrate material must be clean, dry, dust and oil free.
How to use I-905 acoustic insulation system?
Begin to inject an approximate amount of Phono Spray I-905 depending on thickness (never longer than the foam cream time) at the bottom of a corner (hole A) until the foam goes through the said hole A.
Afterwards, proceed with the following injection of product in hole B. Subsequently, continue injecting all through the entire wall. Then, go forward to the top line and carry out as the previous operation at the interspersed injection points.
Finally, perform the same operation at the top holes; it is advisable that these are as close to the ceiling as possible in order to achieve a complete and uniform application.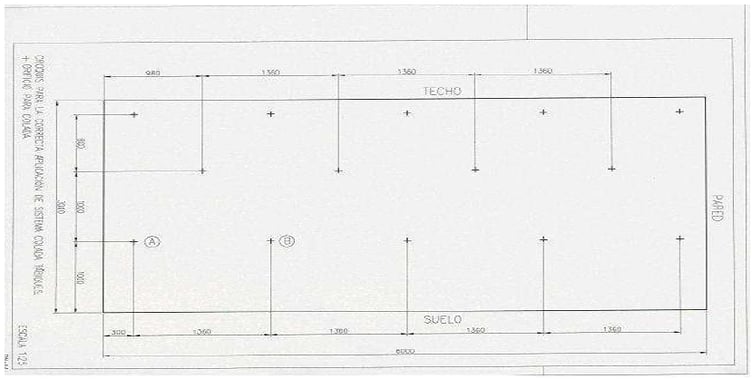 Example of application Phono Spray I-905 insulation system
The sound reduction index in case of laminated plaster partition-wall in adjacent neighbour's homes is:

A constructive solution has been implemented for partition walls in adjacent neighbour's homes consisting of a double partition of laminated plaster plaque of 15 mm thickness; each plaque injected with Phono Spray I 905. Each module is 46 mm thick and 600 mm wide.
Is this system the most suitable for acoustic insulation?
The sound absorption of Phono Spray I-905 was determined at different frequencies, according to standard UNE-EN 20354:1993, in a reverberating gap.
Acoustic insulation tests for airborne noise have been carried out according to UNE-EN ISO 140-3:1995 in a vertical restoration watershed face typical facade as well as in new type of laminated plaster partition walls.
The following table shows the results obtained for not only I-905, but also shows the sound absorption of a closed cell polyurethane foam for thermal insulation such as Poliuretan® S Spray.