Airtightness is an important requirement for energy-efficient buildings, but it's not the only requirement. An optimal insulation together with airtightness complies with the passive house standard. Why shouldn´t an insulating material that guarantees thermal comfort and airtightness in a single application be used?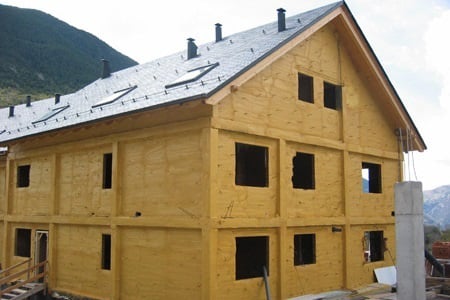 Airtightness must be part of the construction contract with the builder, specifying the minimum values that are to be achieved. To do this, Blower-Door tests are carried out and the existing air changes are studied.
Wearing a wool sweater allows us to maintain body heat at comfort temperature. When the wind blows, the thermal sensation is lost and it is necessary to put a barrier to the air, like a windbreaker jacket.
This analogy is useful to describe how some insulating materials work, such as rock wool, which requires in its installation additional materials, such adhesive to guarantee airtightness and optimal insulation.
Why is airtightness so important for nearly zero-energy buildings?
Energy saving can be calculated by using thermal insulation data. But, is this saving real when a large part of the energy escapes due to unwanted air changes?
Hermetical construction does not depend on the type of construction. Blower-test tightness values between 0.2 and 0.6 have been achieved regardless of the structural layout or composition; which shows that the key lies in the insulating solution and the airtight layer which polyurethane can provide in a single application.
Aspects to take into account to achieve airtightness in a passive house
Both during the design and the execution phases, it is necessary to envisage the airtight layer in a detailed way, paying special attention to joints and junctions.
This layer has to be as continuous as possible and it is necessary to take into account problematic points such as thermal bridges, connection points and installation.
Why polyurethane provides the necessary airtightness to comply with the Passive House standard?
Polyurethane acts as a barrier against the air, making the whole building an airtight construction. The physical structure of its cells and the ability to adapt to the space in which it is sprayed or injected, allows Passivhaus standards to be achieved in those buildings where polyurethane is applied.
Do you want to receive further information about our polyurethane insulation systems? Do not hesitate to contact us.